FLAC Converter
Convert FLAC to other audio formats and other audio formats to FLAC online, free
Convert your file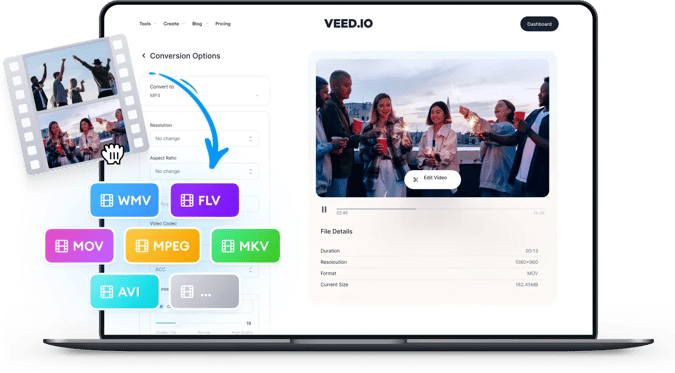 Free Online FLAC Converter
Looking for an audio converter that accepts FLAC files? Look no further! VEED can convert your FLAC files to other audio formats in only a few clicks. Convert FLAC files to MP3, AAC, OGG, WAV and many more. It's an incredibly simple tool that you can use straight from your browser. You don't need to download any software.
Edit Audio - Want to edit your FLAC file before converting? Worry not, VEED can do it all. Cut, split, merge and mix different audio tracks all in the same tool.
How to Convert FLAC Files:
1

Select a file format

Click on the first box and select FLAC as the file format then click on the box next to it and select your desired audio format.
2

Upload

Click on 'Choose File' and select your FLAC file from your folders. You can also drag and drop the file into the box. Click on 'Convert File'.
3

Convert

Click on the Download button and the audio will be saved to your device in your preferred format.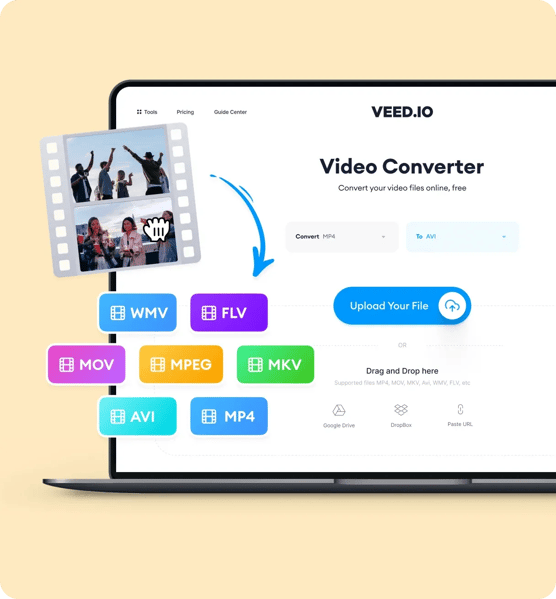 'FLAC Converter' Tutorial
100+ possible file conversions
VEED can convert your FLAC files to multiple formats and convert other audio formats to FLAC. Simply select the "original file type" of your audio and choose your desired audio format. Upload your audio and click Convert. This includes video file formats if you wish to add video to your audio.
Free & online FLAC converter
VEED's FLAC audio converter works straight from your browser. Upload FLAC from your files, convert online using VEED and export from browser in seconds. Say goodbye to downloading apps and software. Compatible with all major operating systems - Mac, iOS, Android and Windows.
Remove background noise in one click
VEED is one of the only FLAC converters to include a background noise remover. Clearly, the fun doesn't stop with conversions. Open the audio editor (and leave the converter) to access a whole new set of features. Upgrade to PRO to access the automatic background noise remover.
Frequently Asked Questions
More than a FLAC Converter
VEED not only lets you convert your FLAC files to other audio formats but also lets you edit your audio and video files without leaving your browser. Your all-in-one creative studio for anything audio, video or file format related. It's fast, simple and easy to use. No sign up or subscription needed.
Convert your file