Automatically Remove Background Noise from Video with AI
VEED's artificial intelligence software automatically detects noise from your video and removes it instantly, leaving you with a crisp sound quality. It's perfect for cleaning up video and audio recordings done in your home office, where you can't always control every sound that's picked up by your microphone. VEED can remove noises such as wind, rain, traffic sounds, ticking clocks, static, and humming sounds from air conditioning and more.
And since it's a complete professional video editing software, you can also use VEED to replace the audio or add background music and sound effects. Add instant voiceovers using our text-to-speech tool. And if you need to remove the visual clutter in your video's background, you can also use our video background remover! Our background noise remover is available to premium subscribers. Check our pricing page for more info.
How to remove background noise from your video:
Upload, record, or start with a template
Upload your video to VEED or start recording using our online webcam recorder. You can also start with a video template.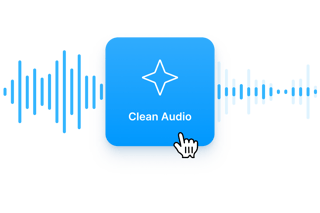 Clean your audio
Click on your video on the timeline and click Clean Audio. Our AI will automatically remove background noise from your audio and video.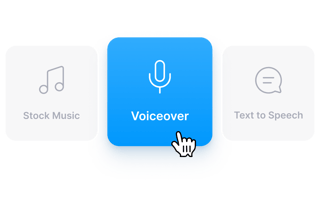 Edit your video or audio and share!
Maximize VEED's pro tools to make your video or audio sound professional. You can add background music, voiceovers, and more. Export your project as mp3 or mp4!
Learn more about our video background noise removal tool:
Perfect for webinars, Zoom recordings, and online classes
VEED's background noise remover can quickly clean your audio for your Zoom recordings, business meetings, and online courses—without losing sound quality! Background noises can make your video look unprofessional and can lead to disengaged viewers. Remove any unwanted sound from your video using our AI background noise remover software. Ensure that you give the best experience to your viewers and/or listeners!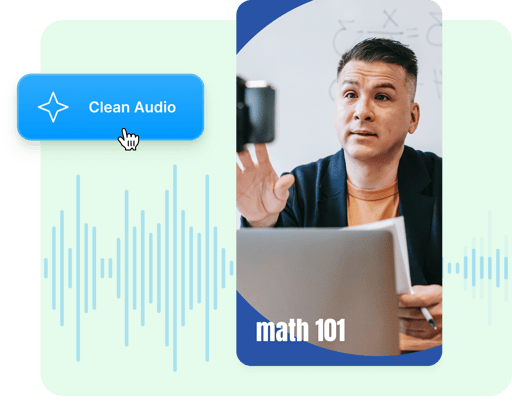 Remove background music from video and replace the audio
Apart from removing background music from your video and other unwanted sounds, you can use VEED's pro tools to make your content even more enjoyable for your audience. Add background music, sound effects, voiceovers, narrations, and more. You can even select from our library of royalty-free stock music (available in premium). Plus, we offer a smooth interface for you to quickly split, cut, and rearrange your audio tracks! Just drag and drop tracks across the timeline and use the split and cut tools.
Powered by Dolby Technology
We work with Dolby to bring you the highest-quality audio enhancement in the industry. With one click, you can remove all unwanted sounds and make your video sound squeaky clean. Our powerful video background noise removal tool automatically detects unwanted sounds in the background and swipes them clean from your audio in seconds. It works with all popular video file types, including MP4, MOV, AVI, MPEG2, MPEG4, M4A, MKV, FLV, and many more. No need to use complicated apps like Adobe Audition or Premiere Pro.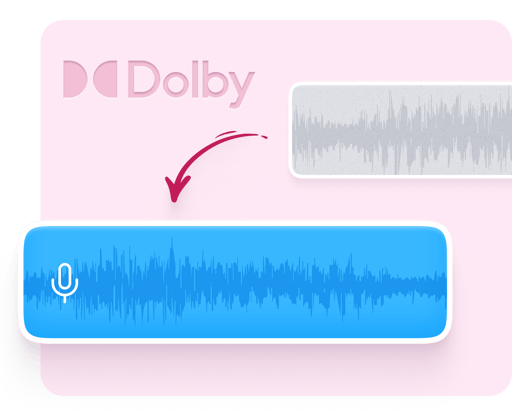 Frequently Asked Questions
What they say about VEED
Veed is a great piece of browser software with the best team I've ever seen. Veed allows for subtitling, editing, effect/text encoding, and many more advanced features that other editors just can't compete with. The free version is wonderful, but the Pro version is beyond perfect. Keep in mind that this a browser editor we're talking about and the level of quality that Veed allows is stunning and a complete game changer at worst.
Chris Y.
I love using VEED as the speech to subtitles transcription is the most accurate I've seen on the market. It has enabled me to edit my videos in just a few minutes and bring my video content to the next level
Laura Haleydt - Brand Marketing Manager, Carlsberg Importers
The Best & Most Easy to Use Simple Video Editing Software! I had tried tons of other online editors on the market and been disappointed. With VEED I haven't experienced any issues with the videos I create on there. It has everything I need in one place such as the progress bar for my 1-minute clips, auto transcriptions for all my video content, and custom fonts for consistency in my visual branding.
Diana B - Social Media Strategist, Self Employed
Video background noise removal tool and more!
VEED is a fully-packed online video editor that is completely browser-based. It's a powerful app that lets you remove background noise from your video and transform your videos to make them look stunning and professional. You can crop, rotate, and resize your videos for different social media sites. Add audio, images, text, and more to make them look more interesting. Use VEED's camera effects and filters to enhance them further. Try VEED today and start creating videos worth sharing with the world!
Remove background noise from your video