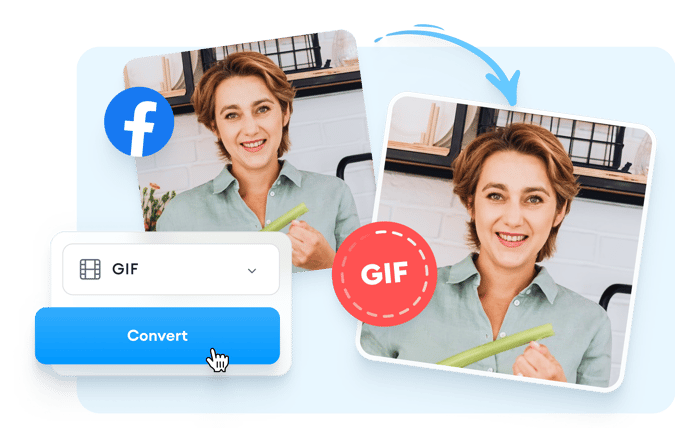 MP4
MP4 is one of the most compatible video file formats. You can upload MP4 files to YouTube, Instagram, TikTok, Twitter, Facebook, and other social media sites. You can also play MP4 files with Windows Media Player, VLC, QuickTime, iPhone, iPad, Android, and almost all media players. MP4 files are popular because they can be viewed almost anywhere, and even with high-quality video, the file sizes remain relatively small, making them easy to share. MP4 is short for 'MPEG4', and is a format that normally contains video and audio, but can also be used to store images and subtitles.
GIF
GIF is an animated graphic or image. Animated GIF images are infinitely looping. You can upload GIF files to Facebook and Twitter. However, it is not a video so you cannot upload GIFs to Instagram or YouTube. You also cannot play GIFs on media players. GIF stands for Graphics Interchange Format. The pronunciation of GIF has been widely debated, whether it should be pronounced as "jiff" or "gif"—with the "g" pronounced like the g in "goat". GIF files can contain more than one image.
How to convert Facebook video to GIF:
1

Upload a file

Upload the Facebook video you wish to convert. Just drag & drop it onto the page, or click the blue button to choose from a folder on your device.
2

Convert your video

Choose GIF as the output format, by selecting from the dropdown list of file types. Then just press 'Convert File'.
3

Download (& Edit) your video

Hit the 'Download File' button to save your newly converted GIF file. You can also click the 'Edit' button to add text, auto-subtitles, progress bars, and more to your video. It's super-easy, with VEED!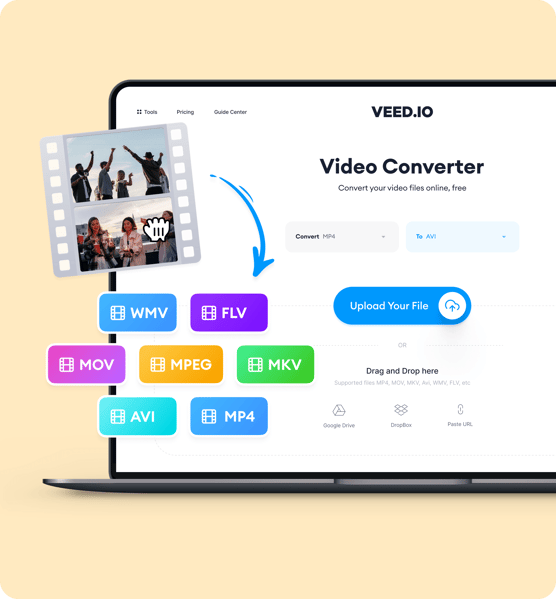 Watch this walkthrough of our video conversion tool:
Frequently Asked Questions
More than a Facebook video to GIF converter
VEED can do so much more than just convert your Facebook video to GIF and other video formats. Apart from being a video converter, VEED is an easy-to-use and powerful video editing software that is entirely browser-based. This means you don't have to spend hours downloading and installing apps on your device. You will have access to a wide range of drag-and-drop tools so you can start editing straight away, whether you're a beginner or pro.
Convert Facebook video to GIF