Audio Converter
Convert your audio files to multiple formats (MP3, WAV, OGG, and more) online, free
Convert your file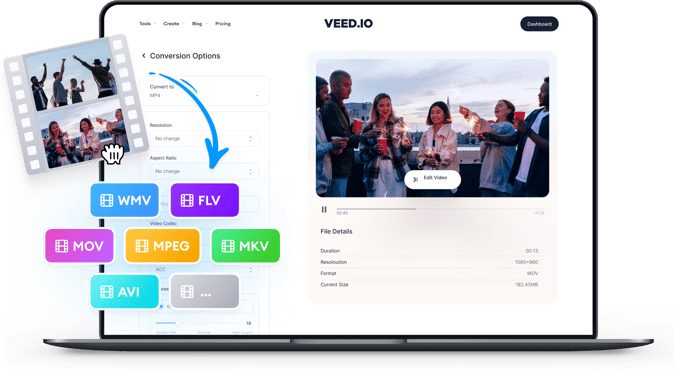 Free Online Audio Converter Software
VEED's online audio converter is completely free to use. Convert your music or recordings to different file formats including MP3, OGG, M4A, WAV, and more. Our online file converter tool is incredibly simple and easy to use. All it takes is a few clicks. Select the original audio format and select your desired format to convert to; upload your audio and hit 'Convert' and VEED will automatically convert your audio.
You also have the option to create videos from your audio files using our free Video Editor, before and after converting them. VEED is a comprehensive video editing software and you can use all features straight from your browser. Say goodbye to clunky apps that eat up storage space in your device. No subscriptions, no fuss, no catch!
How to convert video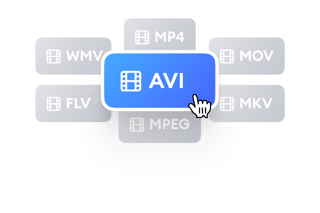 Select a file format
Click on the first box and select the original format of your audio then click on the box next to it and select your desired audio format to convert to.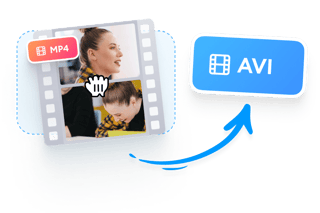 Upload and convert your audio
Click on 'Choose File' and select your audio from your folders. You can also drag and drop the file into the box. Click on 'Convert File'.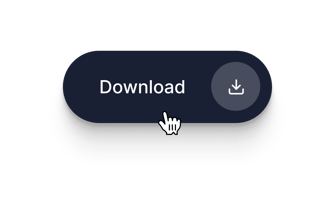 Download your audio
Click on the Download button and the audio will be saved to your device in your preferred format.
'Audio Converter' Tutorial
100+ possible audio file conversions
VEED can convert your audio files to multiple formats including MP3, WAV, M4A, OGG, WMA, and more. Simply select the original file type of your audio and choose your desired audio format. Upload your audio and click Convert. VEED will automatically convert the audio file for you.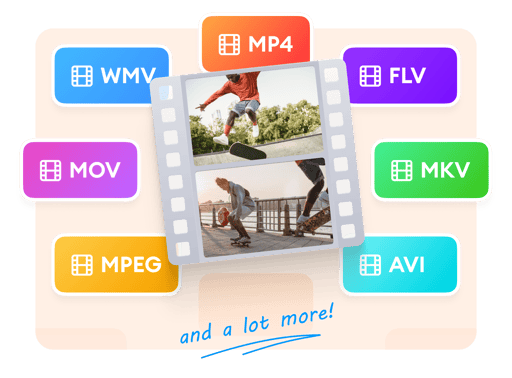 Create professional-looking videos from audio
VEED is also a powerful video editing software. You can create videos from your audio files. Add photos or a video clip, and use our full range of video editing tools to make your video look professional. Before or after converting your audio, you can use the video editor. Add subtitles and captions to your videos to make them accessible to a wider audience. You can add images, emojis, music visualizers, and more! Rotate, crop, and resize your videos for different social media platforms. Edit your videos like a pro!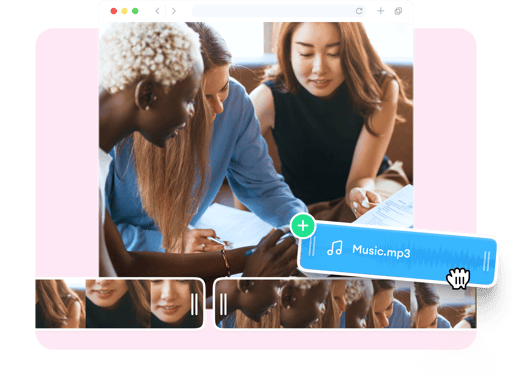 Clean your audio in one click
If you want to enhance the quality of your audio files, you can do so with just one click! This feature is available to our pro subscribers. While this is a paid service, it is a lot more affordable than other video and audio editing services. You will have access to all of VEED's video editing tools! Download subtitle files, including translations. You can visit our pricing page for more information.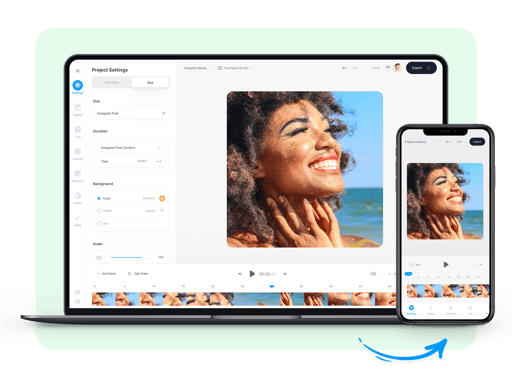 Frequently Asked Questions
More than an audio converter
More than an audio converter, VEED is first and foremost, a powerful and comprehensive video editing software. You can create professional-looking videos even without any video-editing experience. Our tools are incredibly easy to use. All it takes is a few clicks to use most features. Add subtitles, images, audio, and music visualizers to your video. Split, trim, and cut your videos and more. Transform the way you tell visual stories by using VEED today!
Convert your file