Subtitle Editor
Create, edit, adjust and sync subtitles to your video. Improve search engine ranking and engagement on your content!
Edit Subtitles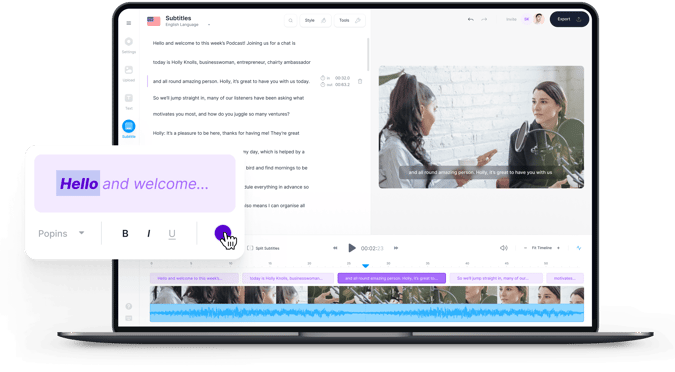 The Easiest Way to Edit Video Subtitles and Captions
Want to edit your subtitles? Don't worry. Let VEED help you edit, reword, translate, or start afresh with new subtitles, whatever works for you. Whether you want to make your subtitles easier to read, add regular expressions, or correct mistakes, VEED can do it for you in a matter of minutes. Change letter spacing, style, and fonts. Easily animate subtitles or highlight them to stress important information.
VEED also lets you download your subtitles as a separate file (SRT, VTT, TXT, etc.) VEED's AI-powered online subtitle generator is accurate, versatile, and easy to use. Powered by AI, our speech-recognition software is one of the most accurate tools you'll find, making it easier than ever to add subtitles to a video.
How to Edit Video Subtitles Online: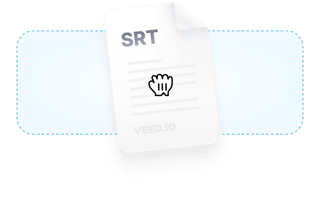 Add Subtitles - Upload Audio or SRT File
Upload your own subtitles file by clicking 'Subtitles' > 'Upload Subtitle File'. You can also manually write your own. Or, you can create new subtitles automatically, just click 'Auto Transcribe'.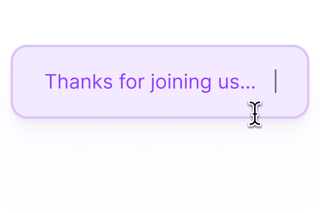 Edit with Animations, Change Font Color
Make edits to the subtitles by clicking on the text and typing. Edits will appear on your video (if you have uploaded one) in real time. You can change the font style, color and more. You can even highlight the subtitles or animate the text.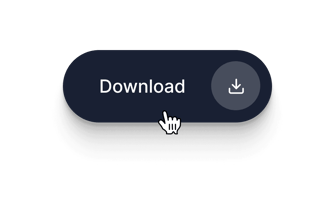 Download the SRT File or Create a Video
You can download your new subtitle file by clicking 'Options' > 'Download .srt', or you can download your video with your new subtitles hardcoded, just click 'Download'. Easy as that! You can add images to your video and even create a new one using video templates on VEED.
Walkthrough of Editing Subtitles on VEED:
Edit Subtitle Styles to Create Interesting and Engaging Videos
If you'd like to change font or size to make subtitles more readable, then VEED has a large selection of fonts, sizes, and styles to help you! VEED gives you the freedom to create videos that align with your branding, theme, and color scheme. Additionally, you can change text positioning, letter spacing, and much more. We have professionally designed subtitle styles to make your subtitle editing journey quick and stress-free.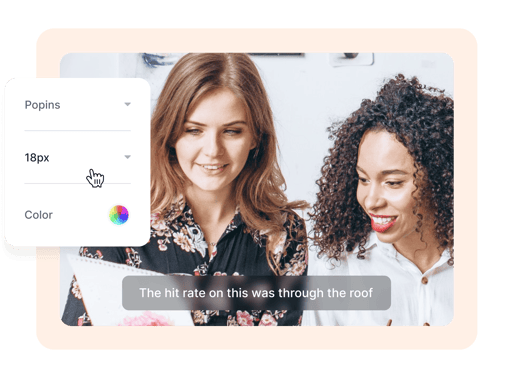 Transcribe and Translate Subtitles to Save Human Hours Spent
Need to stream your videos to non-English speaking audiences? Then use VEED's easy-to-use subtitle translator. You can translate from English to another language or translate from another language to English. Our powerful speech recognition tool recognizes many languages of the world. With VEED, you can translate your subtitles into over 100 languages and even accents! Spanish to English? English to Vietnamese? The choice is yours. You can even auto-transcribe subtitles from text input. Increase your content's accessibility and watch your engagement break new frontiers.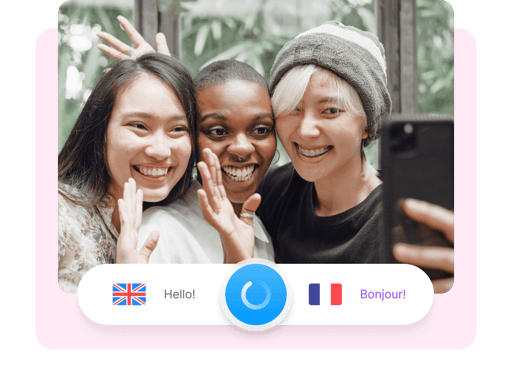 Works Everywhere Download in Multiple Formats and Share on Socials
Edit your subtitles from anywhere at any time. Open VEED in your browser, and start editing in seconds. Works nicely with iPhone, Android devices, tablets, laptops and desktops alike. Also works with all major browsers, like Chrome, Safari, Microsoft Edge, and many more. Downloading subtitles is available to premium subscribers. Check our pricing page for more info.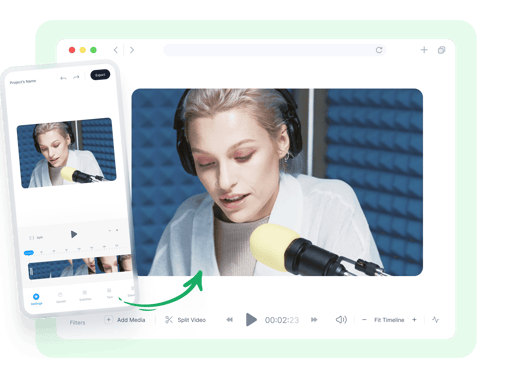 Frequently Asked Questions
What they say about VEED
Veed is a great piece of browser software with the best team I've ever seen. Veed allows for subtitling, editing, effect/text encoding, and many more advanced features that other editors just can't compete with. The free version is wonderful, but the Pro version is beyond perfect. Keep in mind that this a browser editor we're talking about and the level of quality that Veed allows is stunning and a complete game changer at worst.
Chris Y.
I love using VEED as the speech to subtitles transcription is the most accurate I've seen on the market. It has enabled me to edit my videos in just a few minutes and bring my video content to the next level
Laura Haleydt - Brand Marketing Manager, Carlsberg Importers
The Best & Most Easy to Use Simple Video Editing Software! I had tried tons of other online editors on the market and been disappointed. With VEED I haven't experienced any issues with the videos I create on there. It has everything I need in one place such as the progress bar for my 1-minute clips, auto transcriptions for all my video content, and custom fonts for consistency in my visual branding.
Diana B - Social Media Strategist, Self Employed
More Than Just a Subtitle Editor
Editing subtitles is only the tip of the iceberg! VEED is packed with video editing tools to help you create stunning videos and hone your video editing skills. It's super-easy to navigate, you can access a variety of tools without ever leaving your browser. Like a video cutter, frame rate editor, background noise remover, and so much more. You can add progress bars, background music, stickers, filters, special effects, and much more. Our video editor is loved by creators, influencers and marketers alike.
Edit Subtitles