Video Lighting Editor
Change brightness, contrast, saturation, add filters and more! Online, easy to use.
Get Started Now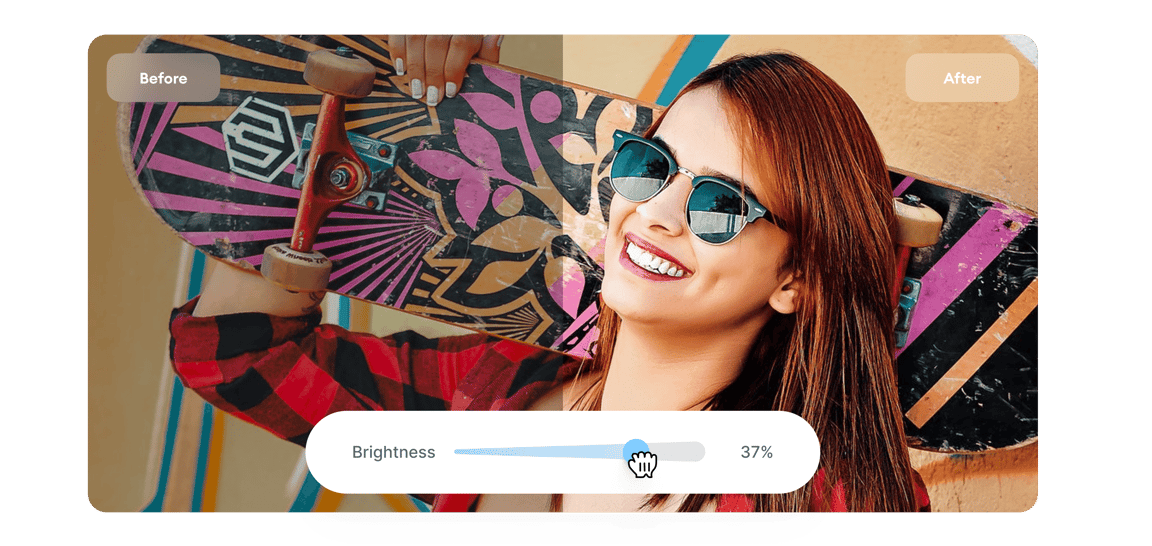 Sharpen Your Videos Online, for Free
Do you want to adjust the brightness, increase the contrast, create a more saturated image, add exposure, filters, and even enhance the resolution of your videos? Well, now you can! VEED is an easy to use video editor that lets you sharpen your videos in seconds. Our video lighting studio will make your videos visible and clear in only a few clicks. Whether you'd like to edit the brightness, contrast, color frames or saturation, VEED is the perfect companion for you. VEED works on iPhone, Android, Windows 10, and requires no app downloads. Try it now! Video Resolution Editor - Make sure you can edit your videos without any loss to quality. Use VEED's video resolution editor to adjust your resolution and make it easier to attach in emails or post on social media.
How to Brighten a Video
1

Upload

Click 'Get Started Now' to upload your video.
2

Edit Lighting

Click on the video track on the timeline below. Switch to the 'Adjust' tab - and you can change brightness, contrast, saturation, exposure. Or, visit the 'Filters' section on the left panel, where you can add VHS effects, black & white, and sepia.
3

Download

Once you're happy, press 'Export' on the top-right corner, and watch your video render in seconds.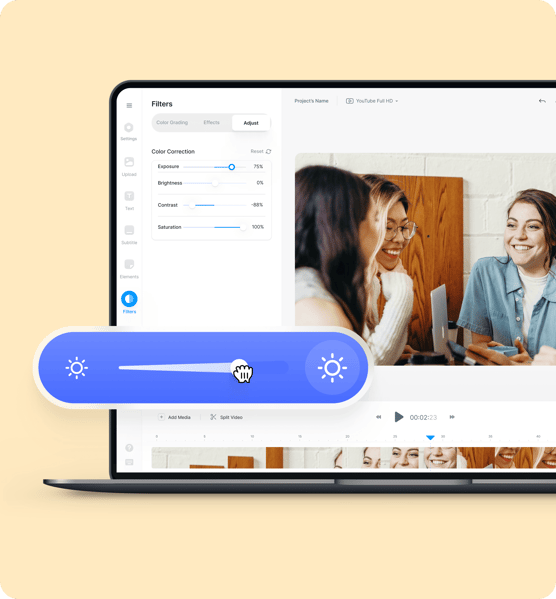 'How to Brighten a Video' Tutorial
Free Video Quality Enhancer
With VEED you'll find several ways to enhance the quality of your video - edit brightness, add filters, adjust resolution (inc. 1440p, 1080p, 720p) and even frame rate. Plus, you don't need to download anything! Enjoy these features straight from your browser.
Fix Dark Videos in Seconds
VEED is not only easy to use, it's fast! Our cloud-based servers will have your video rendered in no time. Use VEED to lighten your dark videos to make them clearer for your audience.
Online Contrast Adjuster
You can adjust contrast to make your video image pop. Get your video looking exactly how you want it. Remove shadows to improve visibility, or enhance them to create dramatic effect.
Filters & Effects
You can adjust the brightness, saturation and exposure of your videos to bring darker corners out of the shadows. What's more, VEED has an extensive selection of filters - including black & white, sepia tones, VHS effects, and many more.
Frequently Asked Questions
What they say about VEED
Veed is a great piece of browser software with the best team I've ever seen. Veed allows for subtitling, editing, effect/text encoding, and many more advanced features that other editors just can't compete with. The free version is wonderful, but the Pro version is beyond perfect. Keep in mind that this a browser editor we're talking about and the level of quality that Veed allows is stunning and a complete game changer at worst.
Chris Y.
I love using VEED as the speech to subtitles transcription is the most accurate I've seen on the market. It has enabled me to edit my videos in just a few minutes and bring my video content to the next level
Laura Haleydt - Brand Marketing Manager, Carlsberg Importers
The Best & Most Easy to Use Simple Video Editing Software! I had tried tons of other online editors on the market and been disappointed. With VEED I haven't experienced any issues with the videos I create on there. It has everything I need in one place such as the progress bar for my 1-minute clips, auto transcriptions for all my video content, and custom fonts for consistency in my visual branding.
Diana B - Social Media Strategist, Self Employed
More than just a video lighting editor!
With VEED, you can do so much more than adjust the lighting of videos. You can auto-generate subtitles, add soundtracks, sound effects and more. Whether you're making a cute Wedding Invitation video, or a Professional Internal Comms video, we've got you covered. VEED is an easy to use video editing tool that has every tool needed to create high-quality videos. Above all, every tool can be accessed online, no download needed! Enjoy VEED's intuitive video editor on Windows 10, Mac, Linux and mobile devices.
Get Started Now