Video Brightness Editor
Adjust your video's brightness, saturation, contrast & more.
Get Started Now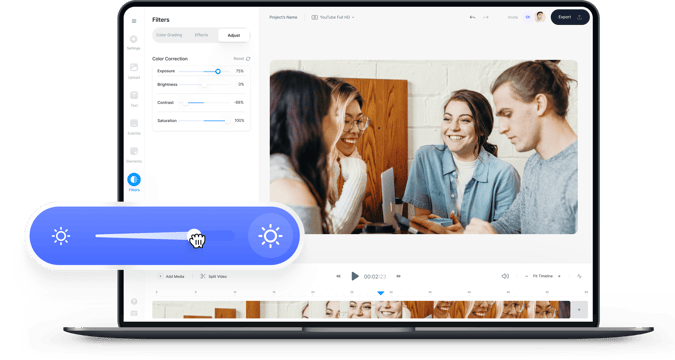 Sharpen Your Videos Online, Free
Is your video too dark to enjoy? Don't worry, there's "light" at the end of the tunnel. With VEED, you can adjust your video's brightness, contrast, color distribution, background, transparency, and much more! Add a splash of colour, vibrance and flair to your videos. Or, drop it a little for dramatic effect! Whatever your project, our professional brightness editor will bring the best out of your video. VEED is a free online video editor that helps creators like you to create professional-grade videos to amaze your audience. Start editing your video in seconds using VEED's extensive library of editing tools! Easy, fast and accessible to everyone. Plus, you can do all this without leaving your browser, because VEED can be used all online! Simply upload your file, in any format - MP4, MKV, AVI, ASF, & many more - and download your edited video in seconds! No app download needed, no experience needed. VEED is an easy to use and instantly accessible video editor. Perfect for creators, influencers and social media marketers. With VEED on your side, the future of video editing is "brighter" than ever!
How to Adjust the Brightness of a Video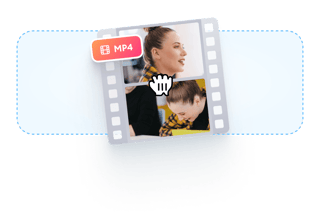 Choose a File
Click the 'Get Started Now' button above. Select a video to upload, or drag & drop it from your files.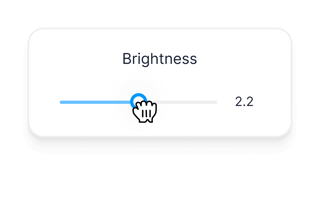 Adjust Brightness
Click on the video track, then switch to the 'Adjust' tab at the top. Drag the 'Brightness' key left or right, until it is bright enough. You can also adjust contrast, saturation and exposure.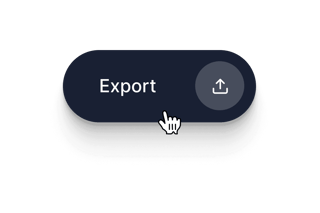 Download
Bright enough? Then click 'Export' to download your video, and you're done!
'How to Make a Video Lighter' Tutorial
Business, Education, Personal
Whether you're posting on YouTube, Instagram, Twitter, Facebook, LinkedIn, or any social media platform, VEED is always at your fingertips. Use our super-simple video editor to create attention-grabbing content that boosts likes, followers and subscribers. Whether you're a marketer, vlogger, educator, or hobbyist videographer, VEED has something for you. Our editing studio is the perfect place to polish your marketing videos, travel vlogs, reels, promos, training & educational videos, or whatever involves an elaborate series of moving pictures!
Collaborate on Video Projects
VEED is an online video editor that is perfect for team projects. Work together on projects in any video format (MP4, MOV, WEBM, AVI, etc.), and for any purpose - social media marketing, education, presentations, you name it. You can edit unlimited videos (including audio editing & sound effects) and even work from your iPhone or Android device. VEED allows you to create stunning videos for any social media platform, including intro videos (with our Intro Maker). Add your logo and your own images to always be on brand. Start using without an account, or sign up to save your videos and access them anytime, from anywhere, and any device!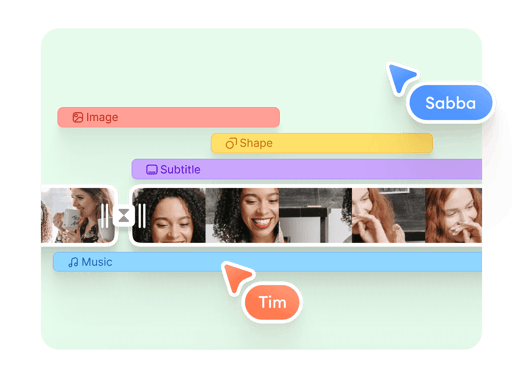 Works Everywhere
Never download costly or complicated software like Adobe or avidemux again. VEED works on mobile, tablets and desktops, and on all major operating systems. Use on Macbook, iPad, Microsoft Surface, Chromebook, and Windows 10 devices. Simply open your browser, upload video and start editing straight away. VEED is compatible with every video format - MP4, AVI, ASF, MKV, MPEG2/4, MPG, M4V, FLV, and more. VEED is a free video editor that allows you to create awesome videos in your palm.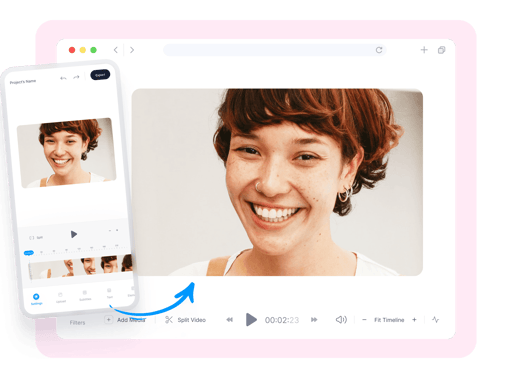 Frequently Asked Questions
What they say about VEED
Veed is a great piece of browser software with the best team I've ever seen. Veed allows for subtitling, editing, effect/text encoding, and many more advanced features that other editors just can't compete with. The free version is wonderful, but the Pro version is beyond perfect. Keep in mind that this a browser editor we're talking about and the level of quality that Veed allows is stunning and a complete game changer at worst.
Chris Y.
I love using VEED as the speech to subtitles transcription is the most accurate I've seen on the market. It has enabled me to edit my videos in just a few minutes and bring my video content to the next level
Laura Haleydt - Brand Marketing Manager, Carlsberg Importers
The Best & Most Easy to Use Simple Video Editing Software! I had tried tons of other online editors on the market and been disappointed. With VEED I haven't experienced any issues with the videos I create on there. It has everything I need in one place such as the progress bar for my 1-minute clips, auto transcriptions for all my video content, and custom fonts for consistency in my visual branding.
Diana B - Social Media Strategist, Self Employed
Do more than just brighten your videos!
Fortunately, VEED is not just a lighting or color correction tool. It is an entire suite of tools that'll make your videos attention-grabbing to any bored pair of eyes! VEED has a selection of cool features you can use to transform your videos and bring them to life. Add watermarks, logos, progress bars, emojis, stickers, background music, subtitles, translations, and so much more! In other words, VEED is your perfect companion to create videos that'll grow your online presence, followers and likes. So, after brightening the video, why not brighten your whole video editing career instead? Just an idea...
Get Started Now