Translate MP3
Translate MP3 transcripts to any language online
Choose MP3 File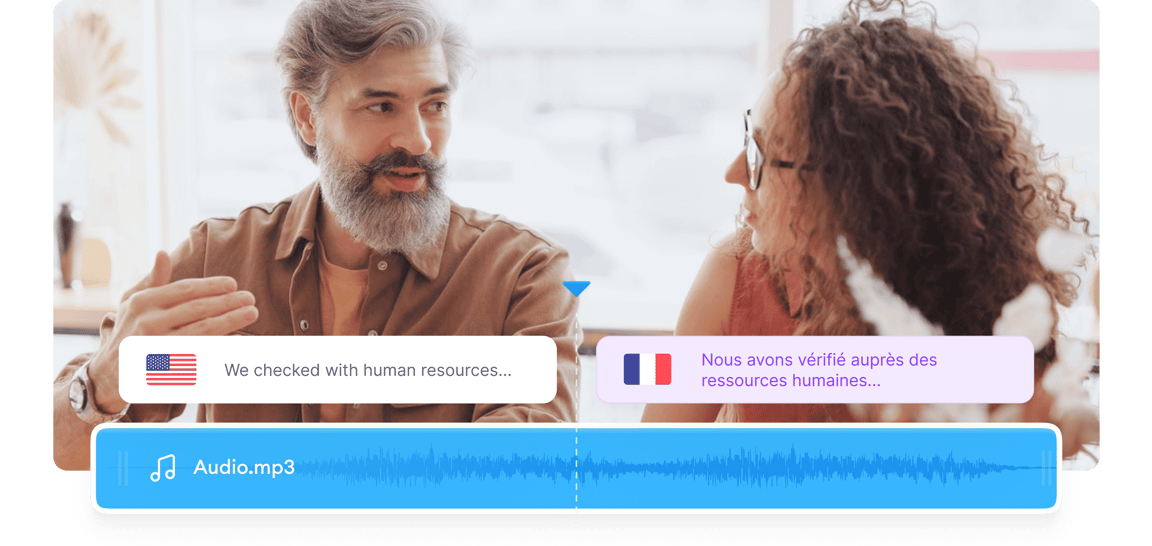 Convert Your MP3 Into Text Files Online
Do you want to transcribe a speech from your MP3 file into a text file? You can use VEED's online auto transcription tool! It is fast and incredibly easy to use. Say goodbye to manually typing audio transcriptions that could take hours, and say hello to automatic transcriptions that take only a few clicks. It is all online, no software to download. VEED's speech-to-text service not only supports MP3 files but also WAV, M4A, AAC, and other popular audio formats. Simply upload your audio file, click on the Auto Transcribe tool, and you're done! You can make simple edits to the transcription as needed.
How to Transcribe MP3 to Text:
1

Upload an MP3 file

Upload your MP3 file to VEED. Just click on 'Choose MP3 File' and select your audio file from your folders. Or drag and drop it into the editor.
2

Convert to text

Under Subtitles, click on 'Auto Transcribe', select your preferred language, and you're done! Your MP3 transcript is generated.
3

Download your text file

Without exiting the Subtitles page, click on 'Options' and download your transcription in your desired format. You can download a TXT, VTT, or an SRT file.
MP3 to text, online
With VEED you can upload your MP3 files in your browser, no software required, and have a text transcription ready in no time. All it takes is a few clicks. VEED works with all popular web browsers. No need to use Microsoft Word to manually type your transcriptions.
Automatic and fast
Our super-fast, cloud-based servers will have your audio files uploaded, transcribed, and converted into text files in a matter of seconds. It's so easy! You no longer have to sit and listen, while typing along to your MP3 files. Now VEED transcribes your MP3s automatically.
Edit your transcriptions
If you want to change anything or add a note or comment, just click on a line of transcription and start typing! Depending on how the speech is spaced out throughout the duration of your audio, VEED separates sentences into different lines. Just click on a segment and edit as needed.
Different Languages
VEED is able to recognize and transcribe languages from all over the world - English, Spanish, French, Chinese, and many more. When you click on the Subtitles tool, you will see an option to select a language at the very top of the toolbar.
Frequently Asked Questions
What they say about VEED
Veed is a great piece of browser software with the best team I've ever seen. Veed allows for subtitling, editing, effect/text encoding, and many more advanced features that other editors just can't compete with. The free version is wonderful, but the Pro version is beyond perfect. Keep in mind that this a browser editor we're talking about and the level of quality that Veed allows is stunning and a complete game changer at worst.
Chris Y.
I love using VEED as the speech to subtitles transcription is the most accurate I've seen on the market. It has enabled me to edit my videos in just a few minutes and bring my video content to the next level
Laura Haleydt - Brand Marketing Manager, Carlsberg Importers
The Best & Most Easy to Use Simple Video Editing Software! I had tried tons of other online editors on the market and been disappointed. With VEED I haven't experienced any issues with the videos I create on there. It has everything I need in one place such as the progress bar for my 1-minute clips, auto transcriptions for all my video content, and custom fonts for consistency in my visual branding.
Diana B - Social Media Strategist, Self Employed
More than MP3 to text transcription
Our audio transcription service is just one of the tools you can use within VEED's platform. VEED is a complete video editing app that has plenty of extra features that you won't find in other free video editors. You can also split, cut, and trim your audio files before transcribing them. If you are transcribing a video, you can add the subtitles to it to make it more accessible. Download the video and share it on social media. All these and more, straight from your browser!
Choose MP3 File