Translate English To Arabic Audio
Translate an English audio file into Arabic text
Upload File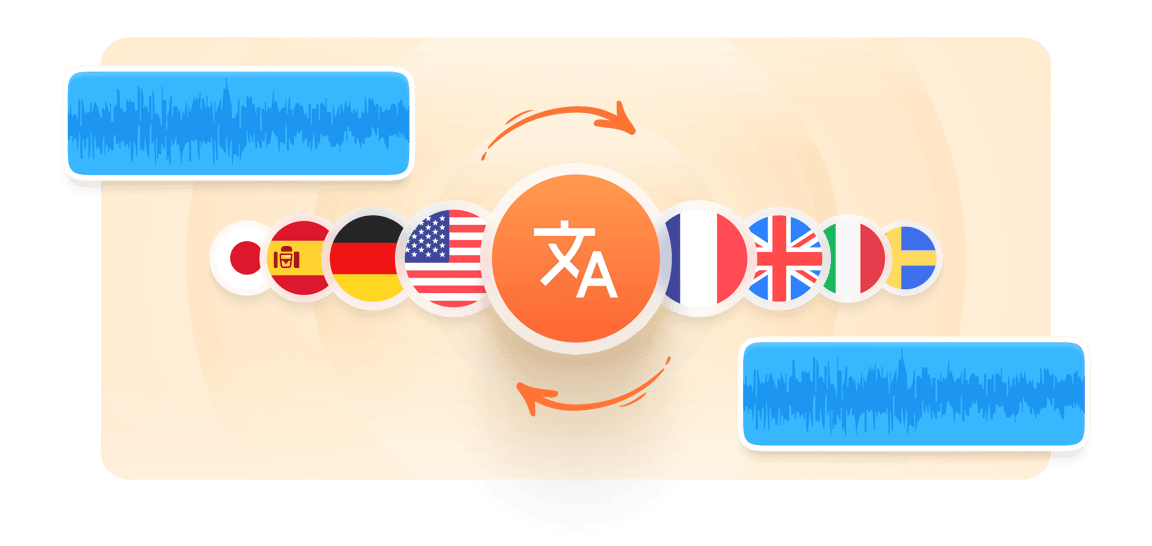 Convert English Audio Into Arabic Text
If you need help translating English audio into Arabic subtitles, VEED's online audio translator can help. The tool works across web browsers, meaning you can access it anywhere. And it offers translations in hundreds of different languages, letting you go from English to Arabic (and vice versa), or pretty much any language you choose, all without using Google Translate and all in a matter of clicks. You can translate English audio to different Arabic dialects whether it's Jordan Arabic, Moroccan Arabic, Saudi Arabian Arabic, Oman Arabic, and more.
How to Auto Translate Audio to Text:
1

Upload

Upload a video or audio file to your computer (MP3, M4A, MP4, WAV), either from one of your folders or by dropping it into the online editor.
2

Transcribe

Select 'Subtitles,' then 'Auto Subtitles,' and set the language to English. When you click 'Start,' VEED will generate the transcription in seconds.
3

Translate

Now select 'Translate,' then 'Add new language,' and set the language to Arabic. You'll see your translation appear almost the moment you click.
'How to Translate Audio to Text' Tutorial
Comprehensive list of languages available
English to Arabic is just one of the translation options available. VEED's tool can support hundreds of different languages, so if you need a Chinese, Vietnamese, French, Italian, Spanish, you name it translation, VEED is the tool for you.
Live support is there when you need
If you can't find a language (or you just need a helping hand), live support is just a click away. And the team loves to hear from our customers, no matter the time of day, so if you run into a little trouble, drop them a message to start a chat.
Different Dialects
You can translate English audio to different Arabic dialects whether it's Jordan Arabic, Moroccan Arabic, Saudi Arabian Arabic, Oman Arabic, and more.
Frequently Asked Questions
What they say about VEED
Veed is a great piece of browser software with the best team I've ever seen. Veed allows for subtitling, editing, effect/text encoding, and many more advanced features that other editors just can't compete with. The free version is wonderful, but the Pro version is beyond perfect. Keep in mind that this a browser editor we're talking about and the level of quality that Veed allows is stunning and a complete game changer at worst.
Chris Y.
I love using VEED as the speech to subtitles transcription is the most accurate I've seen on the market. It has enabled me to edit my videos in just a few minutes and bring my video content to the next level
Laura Haleydt - Brand Marketing Manager, Carlsberg Importers
The Best & Most Easy to Use Simple Video Editing Software! I had tried tons of other online editors on the market and been disappointed. With VEED I haven't experienced any issues with the videos I create on there. It has everything I need in one place such as the progress bar for my 1-minute clips, auto transcriptions for all my video content, and custom fonts for consistency in my visual branding.
Diana B - Social Media Strategist, Self Employed
More than audio translations
If you're looking for a simple video editor that works right in the web browser, VEED is for you. Use it to create learning or educational content. Produce explainer videos and how-tos. Cut, crop, rotate, add special effects: you can even drop in a soundtrack. Whatever edits you need, you can do them online with VEED.
Upload File