Video Speed Controller
Change the speed of a video. Increase or decrease a video's speed. Online, free.
Choose Video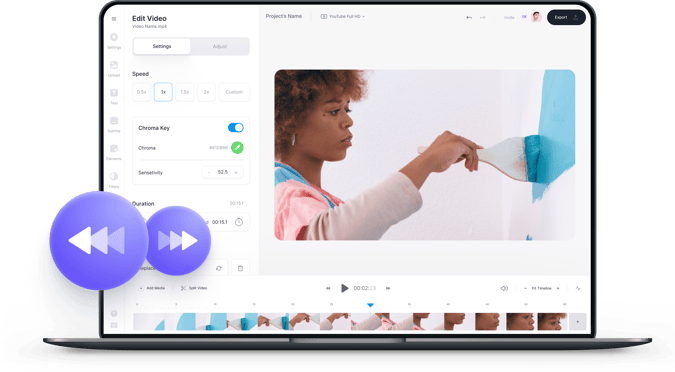 Make Videos Faster or Slower Online
Do you want to make your video play faster or slower? Use VEED's video speed controller tool to increase or decrease the speed of your video. You can even change the speed of an animated GIF! Select from the preset speed options or enter a custom speed setting. You can choose from 0.5x, 1x, 1.5x, 2x, and so on. The great thing is you don't even have to install an app. VEED works straight from your browser. It works smoothly with Google Chrome, Mozilla Firefox, Safari, and other popular web browsers. No need to install Chrome extensions to use the tool. It's free so you don't have to pay for expensive software like Adobe Premiere Pro!
How to Change the Speed of a Video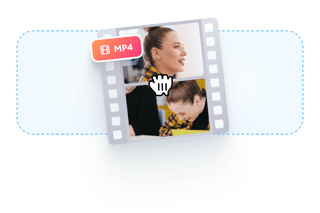 Choose a video
Select your video from your folder and upload it to VEED. Or drag and drop your file into the editor.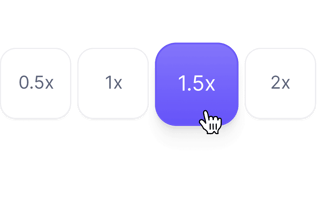 Change the speed
Choose a speed from the Speed settings under Audio. You can also set your desired field by clicking on 'Custom'.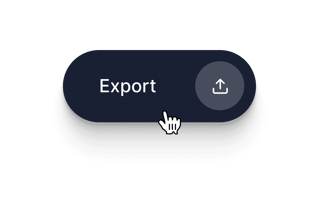 Export
Download your video by clicking on 'Export'. Your video will be saved as an MP4 file.
'Increase or Decrease a Video's Speed' Tutorial
Create a slow-motion or a timelapse effect
With VEED's video speed controller, you can create a slow-motion or a timelapse effect even if you didn't shoot the original video in those settings. Slow-mo videos are great for adding a dramatic effect or they could be useful if you're creating a how-to video or a tutorial. This way, you could emphasize certain steps to make your message clearer. A timelapse, on the other hand, is great for creating B-rolls or for showing processes, that would usually take too long, at high speed. And it's super easy to do, with VEED!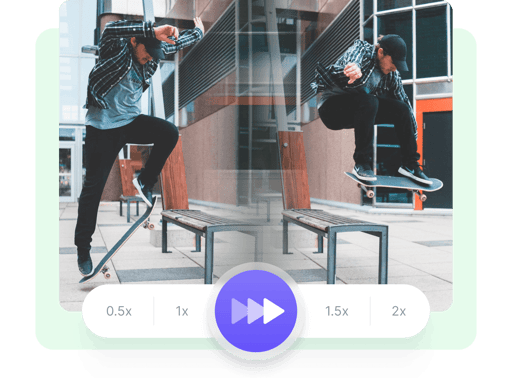 Speed up or slow down parts of a video
You can also select parts of the video and speed up or slow down those particular clips. All you have to do is split the video into parts, select those clips, and change their speed. To split the video into parts, just move the slider—drag and drop the blue indicator to your desired location, and click on the 'Split' tool. You can also right-click on it and select Split. Select the clip you want to fast forward or slow down, then change its speed in the settings. You could have some clips in slow-motion and some at high speed. That's really cool!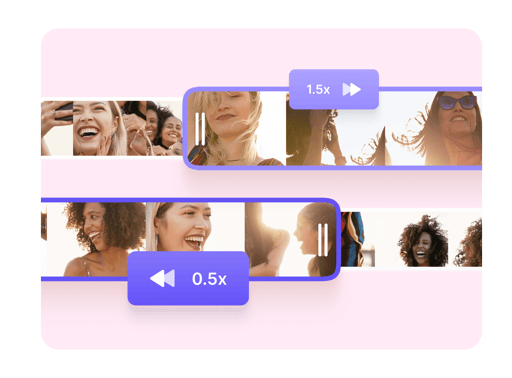 Add other video effects
To make your video even more stunning, you can use VEED's free video effects and camera filters. Just click on Filters on the left menu. You can add color-grading in your video to make it look brighter, dimmer, or make the image black-and-white. Add a fish-eye effect, night vision, and so many other fancy effects! You can also add audio, images, and text. Caption your video to make it more captivating. Draw over your video with the brush tool—great for presentations and tutorials. There are so many other awesome tools that you can use. And they're all available online for free!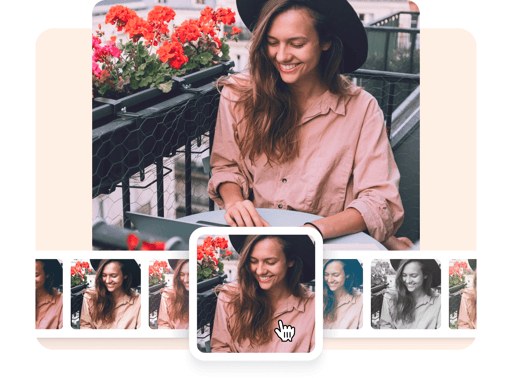 Frequently Asked Questions
What they say about VEED
Veed is a great piece of browser software with the best team I've ever seen. Veed allows for subtitling, editing, effect/text encoding, and many more advanced features that other editors just can't compete with. The free version is wonderful, but the Pro version is beyond perfect. Keep in mind that this a browser editor we're talking about and the level of quality that Veed allows is stunning and a complete game changer at worst.
Chris Y.
I love using VEED as the speech to subtitles transcription is the most accurate I've seen on the market. It has enabled me to edit my videos in just a few minutes and bring my video content to the next level
Laura Haleydt - Brand Marketing Manager, Carlsberg Importers
The Best & Most Easy to Use Simple Video Editing Software! I had tried tons of other online editors on the market and been disappointed. With VEED I haven't experienced any issues with the videos I create on there. It has everything I need in one place such as the progress bar for my 1-minute clips, auto transcriptions for all my video content, and custom fonts for consistency in my visual branding.
Diana B - Social Media Strategist, Self Employed
More than a video speed controller
VEED is a powerful video editor, complete with all the video editing tools you need to create awesome and stunning videos. You can split, trim, and cut your videos, and delete clips you don't want. Edit each clip however you want and export them as one MP4 file. You can add text, images, sound effects, and more. It's an incredibly easy-to-use video editing app that will let you create videos like a pro!
Choose Video