Podcast Interview Software
Record, edit, and stream studio-quality podcast interviews online
Start recording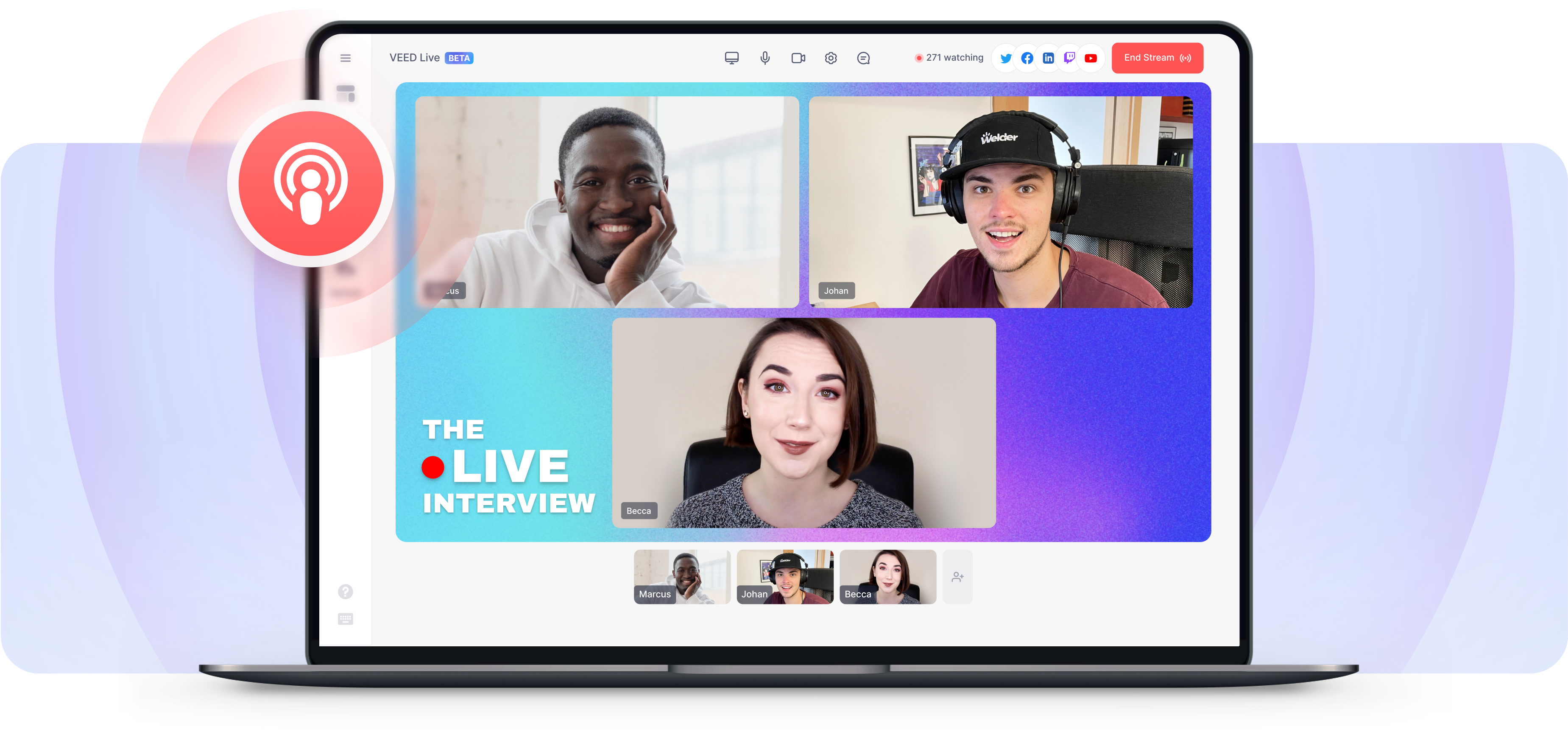 Online studio for remote podcast interview recordings
Record your podcast interviews remotely straight from your browser with VEED. You don't need to install third-party recording software or audio editing software like Adobe Audition which can be complicated to use. Record and edit in one place! Livestream your remote interview and save it in your archives for later use using VEED's cloud storage. When you stream your podcast, it automatically gets recorded. Edit it using our video editor and share it on different social media platforms!
How to Record a Podcast Interview:
1

Stream or Record

You can immediately live stream your podcast or record it—just click on the "Start Recording" button. When you stream, your video is automatically recorded.
2

Edit Your Podcast

When you're done, you can edit your recording right away! You will see a transcript of your podcast and cut parts of it by highlighting the text and pressing delete. To make further changes to your video or audio, just click the "Edit" button on the top.
3

Download and Share

You can download a copy of your podcast transcript in TXT or SRT format. Then you can download and share your podcast!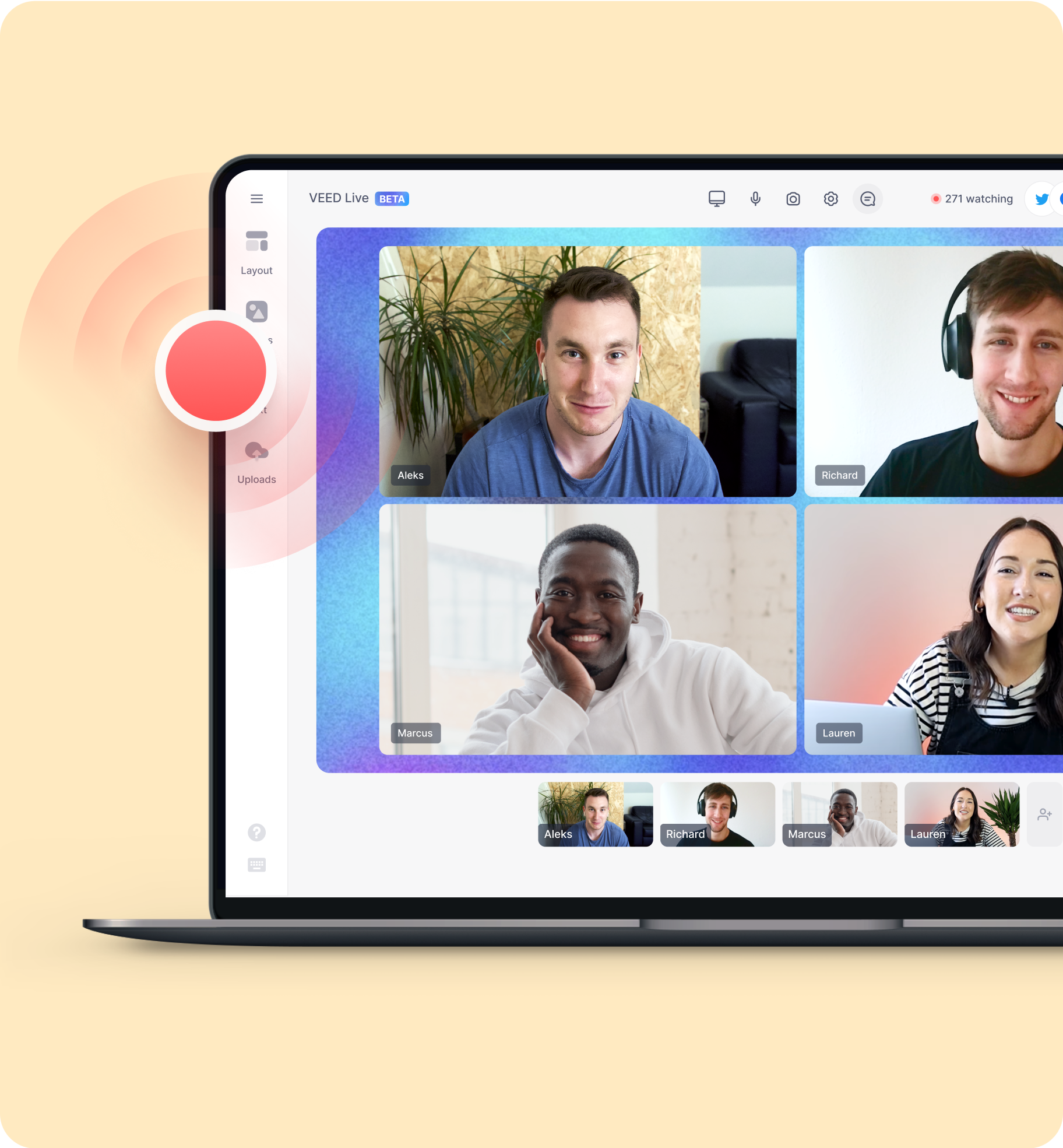 'Podcast Interview Software' Tutorial
Complete suite of podcast recording and streaming tools
VEED features a complete suite of podcast recording and streaming tools for your remote podcast interviews. These tools are built-in together with our video editor—record, edit, and live stream your podcast on multiple platforms. Stream your podcast interview live on Facebook, Twitter, Twitch, and more in one click. When you're done, you'll get a full transcript to work with—you can either cut out parts of the video that you didn't like or export interesting parts into a shorter clip.
Do a remote group interview
You can interview multiple people at once without having to gather them all in one place. With VEED's podcast interview software, you can invite participants to join—remotely. Just copy the invite link, send it over to your guests (you can have up to 8 participants) and let them join the session. Pick from different layouts or pick a dominant speaker view to highlight the guest who's currently talking. Doing group interviews for your podcast has never been easier!
Get a full transcript
When your stream or recording is done, you will get a full and accurate transcript of the session. You can edit the whole video by text and then export it or you can highlight interesting parts, export them and turn them into more video content. There's also the option to export the whole transcript either as a .SRT or .TXT file.
Frequently Asked Questions
What they say about VEED
Veed is a great piece of browser software with the best team I've ever seen. Veed allows for subtitling, editing, effect/text encoding, and many more advanced features that other editors just can't compete with. The free version is wonderful, but the Pro version is beyond perfect. Keep in mind that this a browser editor we're talking about and the level of quality that Veed allows is stunning and a complete game changer at worst.
Chris Y.
I love using VEED as the speech to subtitles transcription is the most accurate I've seen on the market. It has enabled me to edit my videos in just a few minutes and bring my video content to the next level
Laura Haleydt - Brand Marketing Manager, Carlsberg Importers
The Best & Most Easy to Use Simple Video Editing Software! I had tried tons of other online editors on the market and been disappointed. With VEED I haven't experienced any issues with the videos I create on there. It has everything I need in one place such as the progress bar for my 1-minute clips, auto transcriptions for all my video content, and custom fonts for consistency in my visual branding.
Diana B - Social Media Strategist, Self Employed
More than a podcast interview software
VEED is the all-in-one video editing platform that you've been looking for not just for your podcasting needs but also for all types of video content creation whether for personal or business use. It works as a live streaming platform as well! The best thing about VEED is you can also edit your videos after your streaming or recording session. Resize your video so you can easily share it on different social media and video-sharing platforms. Use VEED to record, edit, and stream studio-quality podcasts today!
Start recording