GIF Compressor
Compress and optimize GIFs for your social media campaigns
Compress GIF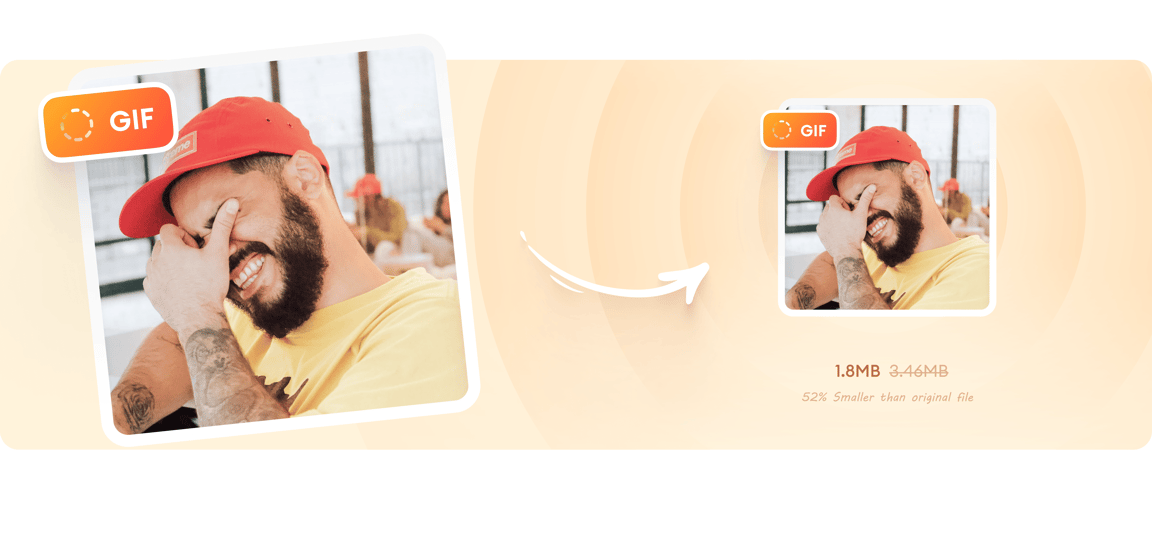 Use our online GIF optimizer for social media sharing!
Resize your animated images and optimize them for different social media platforms. Our online GIF compression tool helps make your GIFs load faster. Compressing your GIF images will also help you save space and improve your website's performance—if you're sharing GIFs on your site!
Our image and video compressor also features a full range of video editing tools that will let you create new videos and GIFs that you can use for your social media marketing campaigns. Create GIFs from videos and vice versa. Add images, animated text, and more!
How to compress a GIF:
1

Upload, record, or start with a template

Upload your GIF files to VEED. Or you can record a video and turn it into a GIF! You can also start with a video template and download the project as a GIF file.
2

Adjust compression settings or create a new GIF from videos

Adjust the compression settings for your GIF. The new estimated file size will be displayed. You can also create a new GIF from a video. Export your project as a GIF file!
3

Share or save your video as a template

Share your GIFs on your website or social media pages. You can also save your video as a template to speed up your content creation process (available in premium)!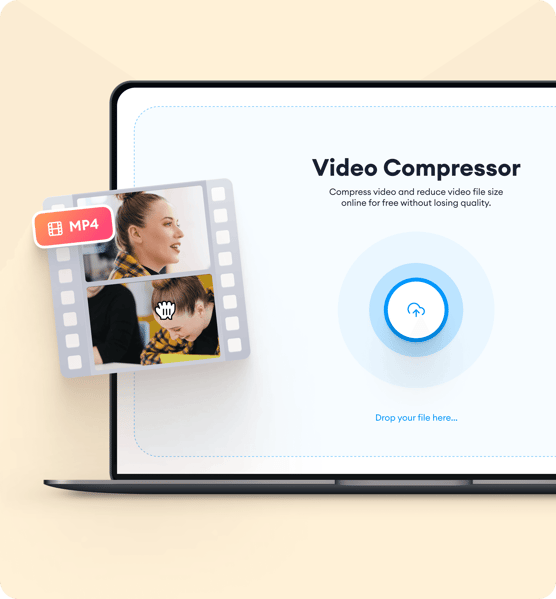 Here are more GIF creation ideas!
High-quality compression with minimal loss in image quality
VEED's GIF compressor uses sophisticated software to ensure that your images are compressed without losing too much quality or detail. You can be confident that your compressed GIFs will look just as good as the originals while taking up less space and loading faster.
Create new GIFs from videos for fresh content
You can also create new GIFs from video clips. Splice videos together using our intuitive timeline, where you can easily split, trim, and rearrange clips. Keep your social media content fresh for your online community! Plus, you can use our full suite of video editing tools to add text to your GIF, create GIF memes, add images, and more. Make your content relatable to increase your social engagement.
Poorly cropped GIF? Crop your GIFs to the perfect size!
Sometimes, you'll see a GIF that's poorly cropped, so the whole image doesn't show properly on social media. You can use VEED's GIF editor to crop, rotate, and even add text to your GIF files. You can optimize them for any platform, whether that's Twitter, Facebook, or Instagram.
Frequently Asked Questions
What they say about VEED
Veed is a great piece of browser software with the best team I've ever seen. Veed allows for subtitling, editing, effect/text encoding, and many more advanced features that other editors just can't compete with. The free version is wonderful, but the Pro version is beyond perfect. Keep in mind that this a browser editor we're talking about and the level of quality that Veed allows is stunning and a complete game changer at worst.
Chris Y.
I love using VEED as the speech to subtitles transcription is the most accurate I've seen on the market. It has enabled me to edit my videos in just a few minutes and bring my video content to the next level
Laura Haleydt - Brand Marketing Manager, Carlsberg Importers
The Best & Most Easy to Use Simple Video Editing Software! I had tried tons of other online editors on the market and been disappointed. With VEED I haven't experienced any issues with the videos I create on there. It has everything I need in one place such as the progress bar for my 1-minute clips, auto transcriptions for all my video content, and custom fonts for consistency in my visual branding.
Diana B - Social Media Strategist, Self Employed
More than a GIF compressor
VEED not only lets you compress and optimize your GIF files. It's a complete professional video editing software that will help you streamline your entire content creation process. Create stunning videos using our full suite of tools. Turn your videos into GIFs, or the other way around! It's a professional video converter, editor, and compressor all in one!
Compress GIF