Webcam Viewer
Check if your webcam is working
Click 'allow' when you see a prompt in the browser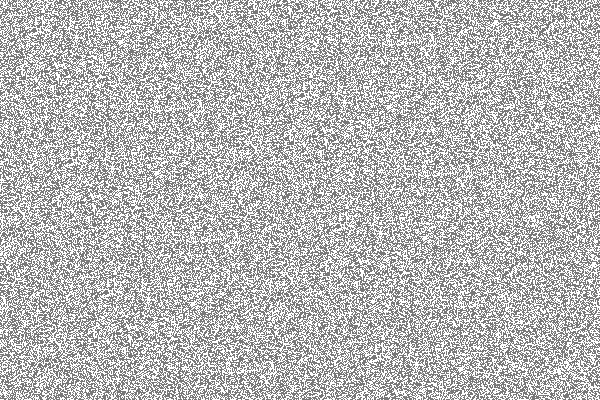 1. Click the 'Start Webcam Test' button.
2. Click 'Allow' when you see the pop-up in your browser.
3. Now you should see your webcam's view. Review image quality, lighting and more
Troubleshooting Guide
Is your webcam not working? Are you not seeing an image or any information? No problem, just follow these simple steps and we'll get your webcam working in a jiffy:
Step 1.
If you are using an external webcam, double check that it is plugged in via USB socket and that its connection cable is not damaged. When plugging in a new accessory like the webcam, your computer typically will notify you through a small audio signal or an on screen notification. For Mac users, you can check hardware status at: About This Mac → System Report → Devices. For Windows, navigate to the Control Panel, and select 'View Devices and Printers' to see current devices.
Step 2.
Make sure that all of your software is up to date. This includes both your operating system, webcam drivers, and software that you use it with. In case you are using an external webcam, check whether it is compatible with the software you are trying to use.
Step 3.
Some webcam models have an "ON/OFF" switch - make sure that if yours has one - it is set to "ON"
Step 4.
Only have a single application open that has access to your camera feed. Having more than one application consuming camera feed can cause the camera not to show up correctly.
How does it work?
1

1. Click "View Webcam"

Click on the button with the camera icon that says "View Webcam."
2

2. Click "Allow" on the pop-up window

You will see a pop-up window on your screen asking for permission. This only gives our tool access to your webcam. The tool will NOT record your camera. Click "Allow" for the test to start.
3

3. Review your webcam's feed

Review your webcam's image & video quality. Make sure that the lighting looks fine.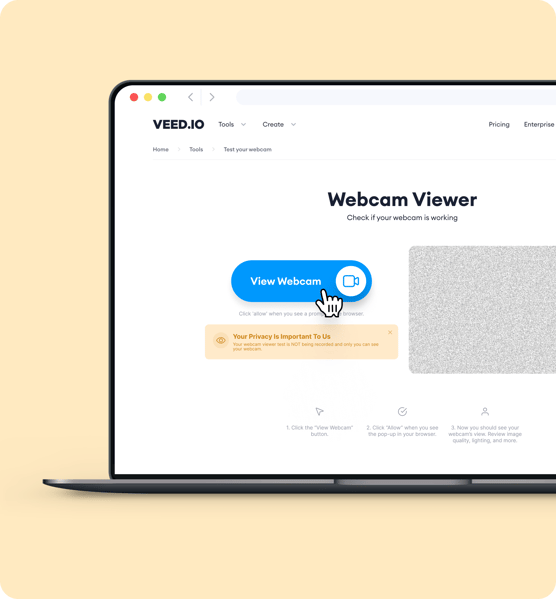 Online Webcam Viewer Tutorial
For recording, livestreaming, and social media
VEED's online webcam viewer and testing tool is incredibly useful whether you want to go live or record video content that you can share on different social media and video-sharing platforms. Make sure that your camera is working and properly set up before going live on Facebook Live, YouTube Live, and other live streaming sites. Plus, you can record your screen and camera straight after doing a webcam test! VEED features free screen recording tools as well. Do all of these straight from your browser.
No need to sign up
You don't need to create an account or sign up to use our webcam viewer and testing tool. Simply click the "View Webcam" button above, and see how your camera feed looks during a video call or prior to recording. It's a simple way to test your camera online from your browser. VEED's webcam viewer app is compatible with Windows (including Windows XP and Windows Vista), Mac, and Linux operating systems.
Forever free
Our webcam viewer tool is 100% free. You don't need to enter your card information to try it. We believe in allowing our users to try our products for free before paying. We also have a free online video editing tool that you can try.
Frequently Asked Questions
What they say about VEED
Veed is a great piece of browser software with the best team I've ever seen. Veed allows for subtitling, editing, effect/text encoding, and many more advanced features that other editors just can't compete with. The free version is wonderful, but the Pro version is beyond perfect. Keep in mind that this a browser editor we're talking about and the level of quality that Veed allows is stunning and a complete game changer at worst.
Chris Y.
I love using VEED as the speech to subtitles transcription is the most accurate I've seen on the market. It has enabled me to edit my videos in just a few minutes and bring my video content to the next level
Laura Haleydt - Brand Marketing Manager, Carlsberg Importers
The Best & Most Easy to Use Simple Video Editing Software! I had tried tons of other online editors on the market and been disappointed. With VEED I haven't experienced any issues with the videos I create on there. It has everything I need in one place such as the progress bar for my 1-minute clips, auto transcriptions for all my video content, and custom fonts for consistency in my visual branding.
Diana B - Social Media Strategist, Self Employed
More than a webcam viewer
The webcam viewer is just one of so many different tools and features of VEED. VEED is an all-in-one video editing and creation app best for pros and beginners alike. Using our free online screen recorder, you can record your online video calls, and then use our video editor to edit your recording. Or create a new video from a video template! Our video editing software is packed with tools that are easy to use to help you create stunning, professional-looking videos. Try VEED and start creating videos like a pro!
View Webcam