Lower Third Maker
Add lower-third text or graphics to your videos. Or use one of our lower-third templates
Create a lower-third video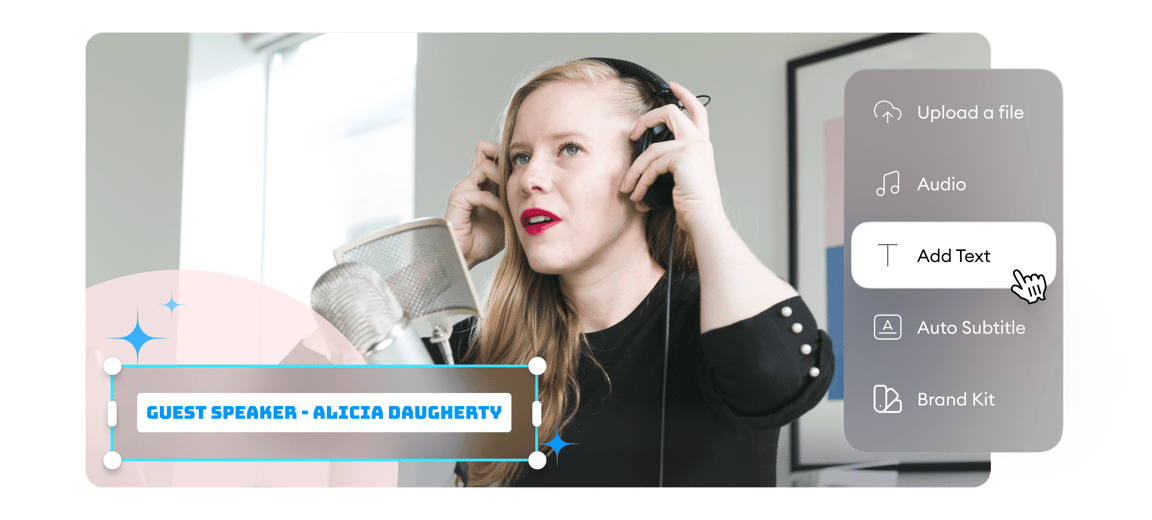 Free customizable lower-third templates or create your own
VEED lets you add lower-third text or graphics to your videos using our intuitive tools. You can add text and place it strategically on the lower-third area of your video to catch your viewers' attention. Drag and drop images in a cinch and place them in the lower third spot, thanks to our snap-to-grid user interface. It's a clever design strategy to ensure you communicate important information in your videos or draw more attention to specific elements! Plus, you can auto-generate subtitles to ensure your audience can understand your content even on mute.
Get inspired
Click on a video to get started right away. Content creation in just a few clicks!
How to make a lower-third video:
1

Upload, record, or start with a template

Upload a video to VEED or record one using our free webcam recorder. Or start with our customizable video templates. We also have lower-third templates ready for customization.
2

Add text and images and place them in the lower third area

Use the Text tool to add headings, subheadings, or regular text. You can also upload images. Place these elements in the lower third area of your video—either on the lower left or right, slightly above the bottom edge of the frame.
3

Export or keep creating!

Export your lower-third video, or keep exploring our full suite of tools to make your video as engaging as possible. You can add auto-subtitles, add music, sound effects, and more!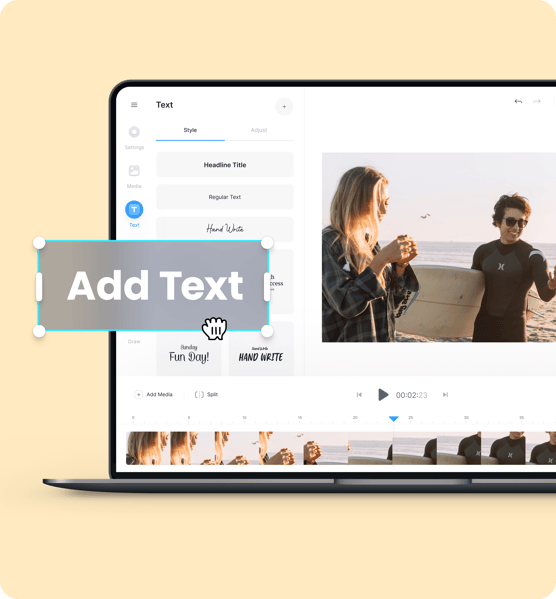 Learn more about using animated lower-thirds in this video:
The most intuitive tool for creating lower thirds
VEED is the best tool you can use to create lower-third videos quickly and pain-free. Our professional video editor features an intuitive timeline and snap-to-grid interface, making it easy to move things around. Strategically place elements in the most noticeable spots in your video. Ensure that you draw attention to the most important information in just a few clicks.
Stay on-brand on social media
Apart from adding text and images, you can add your logo to your video to stay on-brand on multiple social media platforms. You can also add your brand fonts, colors, and other brand assets, save them in your dashboard, and use them in future videos you create on VEED. Thanks to our Brand Kit, you can have your Brand Assets ready for all future projects (available in premium).
A lower-third video creator with built-in essential AI tools
All the video editing tools you need are right within VEED. It's designed to be an all-in-one solution for every content creator. Thanks to our AI tools integration, you can do almost anything in just a few clicks! Add instant voiceovers without having to record your own voice, use realistic AI avatars, auto-generate video scripts, and so much more!
Frequently Asked Questions
What they say about VEED
Veed is a great piece of browser software with the best team I've ever seen. Veed allows for subtitling, editing, effect/text encoding, and many more advanced features that other editors just can't compete with. The free version is wonderful, but the Pro version is beyond perfect. Keep in mind that this a browser editor we're talking about and the level of quality that Veed allows is stunning and a complete game changer at worst.
Chris Y.
I love using VEED as the speech to subtitles transcription is the most accurate I've seen on the market. It has enabled me to edit my videos in just a few minutes and bring my video content to the next level
Laura Haleydt - Brand Marketing Manager, Carlsberg Importers
The Best & Most Easy to Use Simple Video Editing Software! I had tried tons of other online editors on the market and been disappointed. With VEED I haven't experienced any issues with the videos I create on there. It has everything I need in one place such as the progress bar for my 1-minute clips, auto transcriptions for all my video content, and custom fonts for consistency in my visual branding.
Diana B - Social Media Strategist, Self Employed
More than a lower-third video maker
VEED is a powerful video creator and editor that lets you do much more than just create lower-third videos. It's a versatile, all-in-one tool designed for every content creator. Now, with multiple AI integrations, you will never have to use a third-party app to edit your videos to perfection. Create videos that you can feature on your YouTube channel and social media pages, localize your content in different languages, and more. Explore our professional video editor today!
Create a lower-third video