Meeting Recorder
Save time and focus on the work that matters. Create and send video messages to your team straight from your browser
Start Recording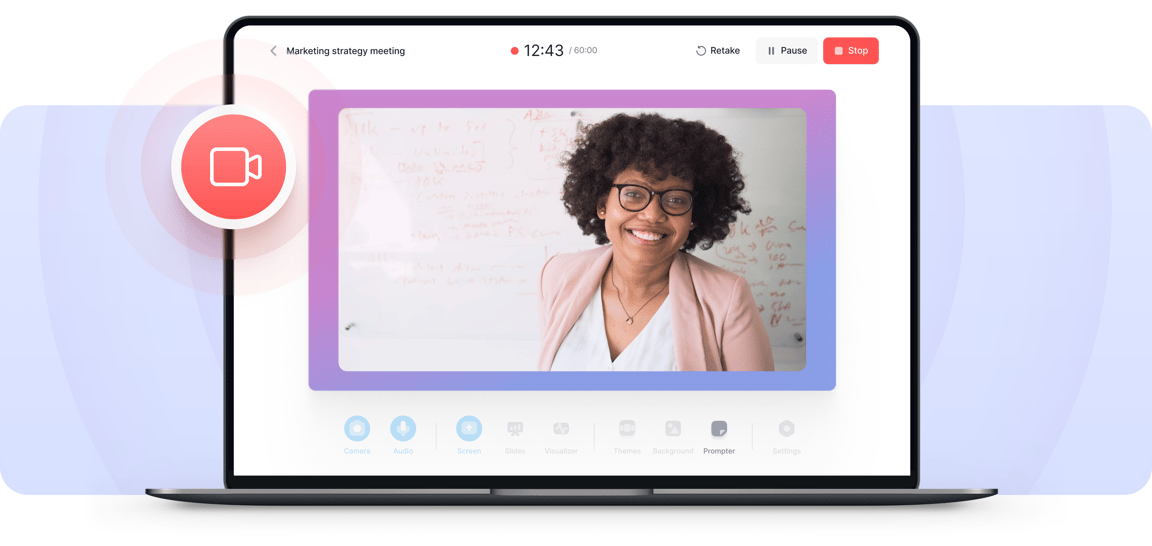 Record your meeting and send a link to your message - no need to download your video! Don't worry about file size limits
Save precious time on meetings so you and your collaborators can focus on work that matters. Use VEED's screen and webcam recorder to capture your desktop, browser, and webcam. When you're done, you can send a link to your video so you don't have to download and send large files. It's the best alternative to Google Meets and a more secure solution than Facebook Messenger. Send your video link to coworkers and collaborators. They can comment on your video and interact with each other. Choose from different layouts. You can also edit your recording using our full suite of video editing tools. INSTALL OUR CHROME EXTENSION to easily record video messages from your browser!
How to Record a Meeting or a Video Message:
1

Select layout

Select from our list of layouts (you may need to click to 'Allow' permission to access your screen, camera, or microphone). You can record just your screen, your webcam, or both at the same time!
2

Start recording

Click the red button to start recording! You'll see a countdown before the recording starts. Don't worry if you mess up. You have unlimited time and unlimited retakes. You can navigate to other pages, and don't worry, you are still recording.
3

Review, edit, and export

You can playback your recording to review it, click 'Share' to share with friends and colleagues, or 'Edit' to edit your video (perfect for adding text, subtitles, and professional touches to your screen recording)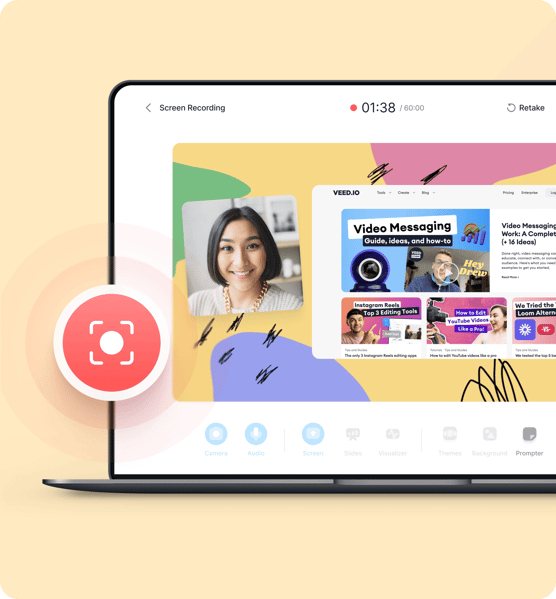 Watch this to learn more about our meeting recorder:
A video conference recorder that is a great alternative to Loom and video chat apps
Instead of scheduling a meeting for communication that requires lengthy explanations, the best thing to do is to record a video message instead. With VEED's screen and webcam recorder, you can easily record messages—complete with features like annotations, drawings, and more. You can upload slides to better present information. It's the best alternative to Zoom meetings. After recording, you can use our full suite of video editing tools to ensure your video is of the best quality.
Efficient, highly customizable, and features fast rendering times
VEED's screen recording app is packed with features that will help you record video messages quickly and efficiently so you and your team can focus on your most important tasks. Choose the shape, size, and positioning of your camera and select from different screen layouts. Try different themes and backgrounds, add slides, and more.
A professional meeting recorder app with a built-in video editor
Our video editor is the fastest and most efficient app to record meetings and video messages online. Most of VEED's features are free to use. You can make your videos look professional using pro tools like our video background remover. However, if you need to record longer videos, you may need to subscribe to our premium plans. Check out our Pricing Page to see which plan suits your needs.
Frequently Asked Questions
What they say about VEED
Veed is a great piece of browser software with the best team I've ever seen. Veed allows for subtitling, editing, effect/text encoding, and many more advanced features that other editors just can't compete with. The free version is wonderful, but the Pro version is beyond perfect. Keep in mind that this a browser editor we're talking about and the level of quality that Veed allows is stunning and a complete game changer at worst.
Chris Y.
I love using VEED as the speech to subtitles transcription is the most accurate I've seen on the market. It has enabled me to edit my videos in just a few minutes and bring my video content to the next level
Laura Haleydt - Brand Marketing Manager, Carlsberg Importers
The Best & Most Easy to Use Simple Video Editing Software! I had tried tons of other online editors on the market and been disappointed. With VEED I haven't experienced any issues with the videos I create on there. It has everything I need in one place such as the progress bar for my 1-minute clips, auto transcriptions for all my video content, and custom fonts for consistency in my visual branding.
Diana B - Social Media Strategist, Self Employed
More than a meeting recorder
VEED is a fast and secure app that lets you do so much more than just record your meetings and share video messages. It is a professional all-in-one video-creation and editing software that's perfect for all your video communication needs for work. You can record your screen and webcam at the same time, present using your slides, and more. Try VEED today and see the difference it makes on your team communication!
Start Recording