Google Meet Transcription
Transcribe your Google Meet session for better business communication
Transcribe Google Meet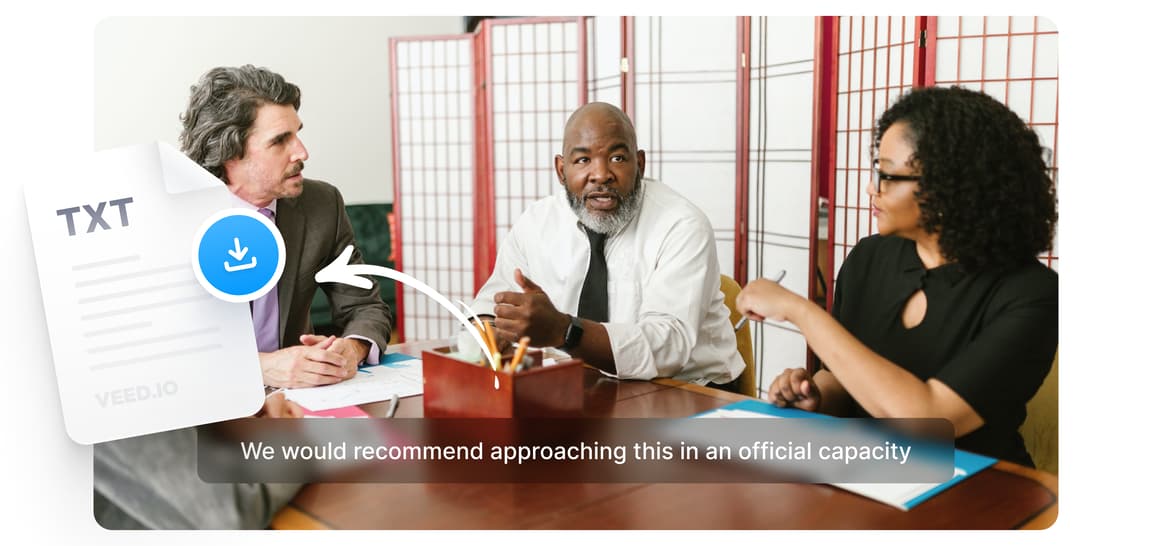 Get automatic Google Meet transcriptions for better communication
Transcribe your Google Meet sessions for better communication across your teams. With VEED's transcription software, you can automatically transcribe your Google Meet recordings. Achieve better business transactions online and do async meetings more efficiently. Download a copy of your transcript for Google Docs and translate it into multiple languages.
You can even record your meeting using our handy webcam recorder. No need to use a third-party recording app. When you're done, enter our built-in professional video editor to clean background noise, remove your video's background, and more.
How to auto-generate Google Meet transcriptions:
1

Upload your Google Meet recording

Upload your Google Meet video or audio file to VEED. You can record your meeting using our webcam recorder.
2

Auto-transcribe

Go to Elements from the left menu and click on 'Auto Transcribe' under Subtitles. Your transcript will be automatically generated. Edit the transcription as needed.
3

Download the transcript

While you're on the Subtitles page, click on 'Options'. Select your preferred text format and click on the Download button.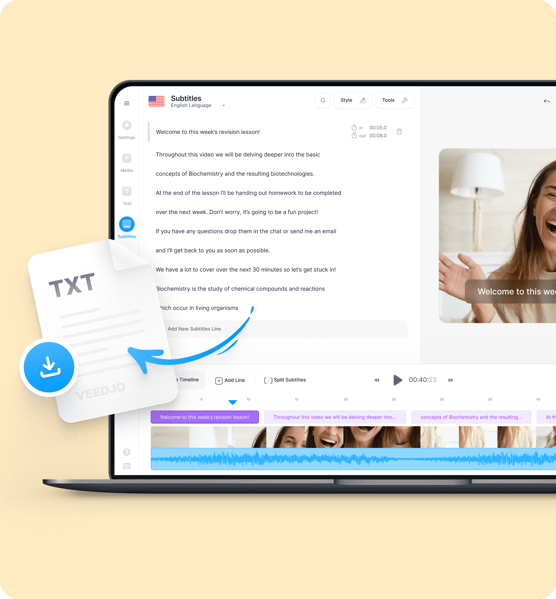 Watch this to learn more about our transcription software:
Reliable Google Meet transcripts for your team
No need to manually transcribe your Google Meet recordings. Automatically generate transcriptions of your meetings and save them on your Google Drive—fast, accurate, and reliable. Your team can save an enormous amount of time and effort documenting your meeting minutes. Plus, you can use our screen recorder to present at your meeting. No more manual meeting notes during video conferencing.
Translate your transcriptions fast with AI
Do you work with a global team? Communicate better with professionals by automatically translating your Google Meet recordings. When the transcription is finished, you can translate it into different languages. VEED can detect over 100 languages and automatically translate your transcript to your preferred language powered by AI. Just click on Translate on the same Subtitles page.
Fast, accurate, and affordable
VEED's super-fast online auto-transcription features 95% accuracy. You may need or want to make some edits to the transcription, but it only takes a few minutes compared to manually typing it. It is incredibly more affordable than other services. You can visit our pricing page for more information.
Frequently Asked Questions
What they say about VEED
Veed is a great piece of browser software with the best team I've ever seen. Veed allows for subtitling, editing, effect/text encoding, and many more advanced features that other editors just can't compete with. The free version is wonderful, but the Pro version is beyond perfect. Keep in mind that this a browser editor we're talking about and the level of quality that Veed allows is stunning and a complete game changer at worst.
Chris Y.
I love using VEED as the speech to subtitles transcription is the most accurate I've seen on the market. It has enabled me to edit my videos in just a few minutes and bring my video content to the next level
Laura Haleydt - Brand Marketing Manager, Carlsberg Importers
The Best & Most Easy to Use Simple Video Editing Software! I had tried tons of other online editors on the market and been disappointed. With VEED I haven't experienced any issues with the videos I create on there. It has everything I need in one place such as the progress bar for my 1-minute clips, auto transcriptions for all my video content, and custom fonts for consistency in my visual branding.
Diana B - Social Media Strategist, Self Employed
Google Meet transcriptions, translations, and more!
Apart from automatically generating transcriptions for your Google Meet recordings, VEED offers so many tools that you can use for audio and video editing. With just one click, you can clean your audio and video clips. You can also split, trim, and rearrange them. Translate your audio content to different languages. Plus, you will have access to our video editing features, including our AI tools! Explore VEED today and achieve better business communication.
Transcribe Google Meet