VEED AI
YouTube Description Generator
Boost views and engagement with captivating YouTube descriptions using VEED's AI description generator
Craft creative YouTube descriptions with VEED's AI
Instantly generate creative YouTube video descriptions for your content with AI. Craft captivating descriptions for your YouTube channel and get your videos to appear on top of search engine results and social media feeds. Use VEED's YouTube description maker to get more followers. Just type a topic and relevant keywords, and and get instant results.
You can also use our AI-powered tool for YouTube channel descriptions. Plus, you can use VEED's built-in AI video editor to ensure your YouTube video is of the highest quality. Supercharge your content creation process with instant voiceovers, auto-generate captions, and use our nifty magic cut tool to let AI splice a masterpiece video from your clips!
How to generate YouTube video descriptions:
1

Type a topic and keywords

Describe your video's topic and type relevant keywords. It can be a description of a scene, the name of a character or person in the video, or a setting.
2

Generate YouTube description ideas

Click on "Generate" and instantly get a set of YouTube descriptions for your video. You can mix and match the results for your post.
3

Copy and paste the description

Copy your preferred text created by our AI description generator in one click. Just click on "Copy to clipboard" or the copy & paste icon. Paste the text on your YouTube video post!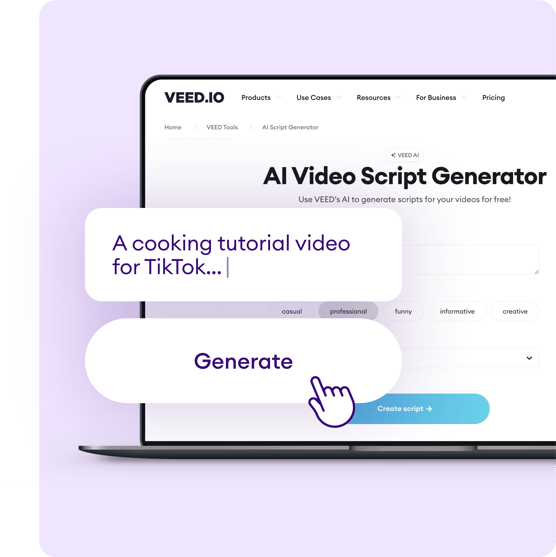 Watch this to learn about our video script generator:
Increase your YouTube channel's engagement
Our AI description generator will provide you with a set of YouTube description ideas that you can mix and match. Or choose one that works best for you. It's every content creator's pathway to increased views and subscribers. Make sure to include relevant keywords in your prompts so our AI can incorporate them into the results.
A powerful YouTube and SEO tools combo
Integrate the use of our AI YouTube description generator with SEO tools to help your video content rank on search engines and reach your target audience. Let AI provide you with the most click-worthy and SEO-friendly YouTube video descriptions. Our free tool will help you get more people to watch your videos and eventually monetize your YouTube channel!
YouTube description generator with powerful AI tools
Look no further if you want to create the most engaging video content. Our built-in video editor will help you streamline your content creation process. Use VEED to add cinematic effects to your videos, add filters, animated transitions, video overlays, and more. It's an all-in-one tool for content creators all around the world.
Frequently Asked Questions
What they say about VEED
Veed is a great piece of browser software with the best team I've ever seen. Veed allows for subtitling, editing, effect/text encoding, and many more advanced features that other editors just can't compete with. The free version is wonderful, but the Pro version is beyond perfect. Keep in mind that this a browser editor we're talking about and the level of quality that Veed allows is stunning and a complete game changer at worst.
Chris Y.
I love using VEED as the speech to subtitles transcription is the most accurate I've seen on the market. It has enabled me to edit my videos in just a few minutes and bring my video content to the next level
Laura Haleydt - Brand Marketing Manager, Carlsberg Importers
The Best & Most Easy to Use Simple Video Editing Software! I had tried tons of other online editors on the market and been disappointed. With VEED I haven't experienced any issues with the videos I create on there. It has everything I need in one place such as the progress bar for my 1-minute clips, auto transcriptions for all my video content, and custom fonts for consistency in my visual branding.
Diana B - Social Media Strategist, Self Employed
An AI description generator, video editor, and more!
VEED's powerful AI doesn't stop at generating the best YouTube video descriptions. Our YouTube description maker is just one of our AI tools. VEED is a professional, all-in-one video editing suite that features all the tools you need to create amazing-looking videos—always in pro quality! Share stories only you can tell through videos that go beyond what's expected. All online; no software to download. Try it now, and start creating content that pushes your creative boundaries!
Generate YouTube description ideas