Watermark Remover
Effortlessly remove watermarks from videos for a professional look.
Remove Watermark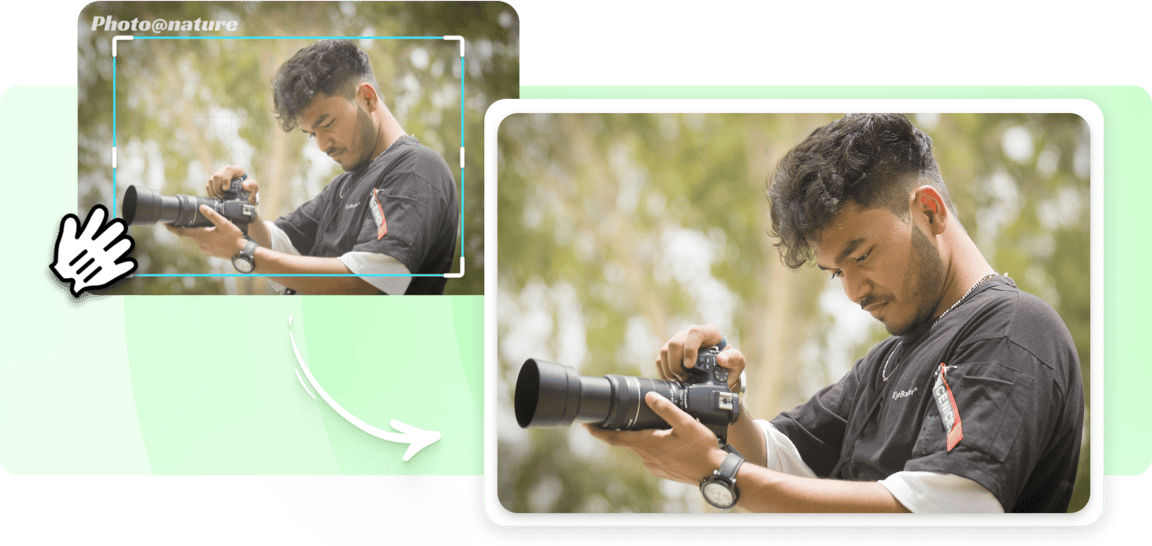 Unlock the power of clean videos: Remove watermarks with ease!
Unlock the full potential of your videos with VEED's video watermark remover. Are you tired of dealing with distracting watermarks that diminish the quality and professionalism of your content? Look no further. Our easy-to-use online tool empowers professionals and content creators to effortlessly remove watermarks from their videos.
With just a few simple steps, you can bid farewell to intrusive logos, text, and overlays that hinder your videos' impact. VEED's video watermark remover tools leverage advanced AI technology to eliminate watermarks, resulting in clean and polished videos that captivate your audience.
Use VEED's tools as watermark removers:
1

Crop video or add media

Use the cropping tool to drag the watermark out of view. You can also overlay another video (video-in-video) on the watermark area. Or place an image on the watermark's location.
2

Elements like animated stickers
3

Add text and subtitles

Add text or subtitles on the watermark area (make sure you select a style with a background to cover up the watermark).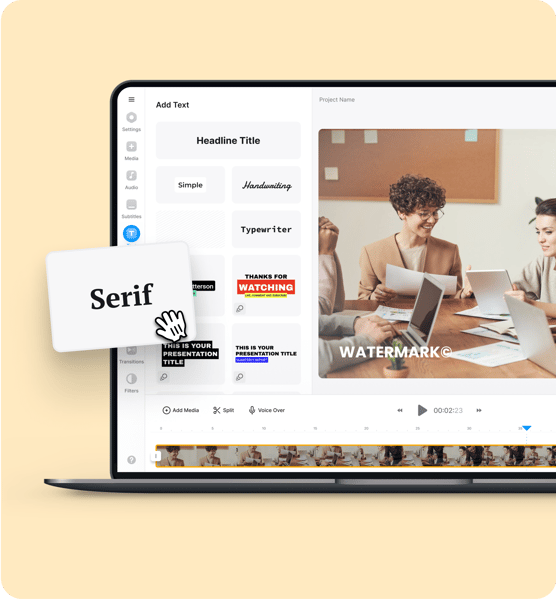 Watch this video to learn more about our watermark remover tools:
Professional video quality
Remove watermarks from your videos effortlessly with VEED's video watermark remover. Enhance the professional look of your videos by eliminating distracting logos, text, or overlays. Present your content with a clean and polished appearance that captivates your audience. Studies show that high-quality videos with no watermarks have a 43% higher viewer engagement rate and are more likely to be shared.
Time and effort savings
Save valuable time and effort by using VEED's video watermark remover. Instead of spending hours manually editing each frame or searching for complex editing software, our user-friendly tool allows you to remove watermarks with just a few clicks. Focus on creating captivating content and let our AI video editing tools handle the watermark removal process efficiently. It's all online without need for software download.
Protect your brand identity
Ensure the integrity of your brand by removing unauthorized watermarks from your videos. Protect your intellectual property and maintain a consistent brand image across your video content. With VEED's video watermark remover, you have full control over your videos and can safeguard your brand's reputation. Videos with clear branding and no unauthorized watermarks are more likely to be perceived as trustworthy.
Frequently Asked Questions
What they say about VEED
Veed is a great piece of browser software with the best team I've ever seen. Veed allows for subtitling, editing, effect/text encoding, and many more advanced features that other editors just can't compete with. The free version is wonderful, but the Pro version is beyond perfect. Keep in mind that this a browser editor we're talking about and the level of quality that Veed allows is stunning and a complete game changer at worst.
Chris Y.
I love using VEED as the speech to subtitles transcription is the most accurate I've seen on the market. It has enabled me to edit my videos in just a few minutes and bring my video content to the next level
Laura Haleydt - Brand Marketing Manager, Carlsberg Importers
The Best & Most Easy to Use Simple Video Editing Software! I had tried tons of other online editors on the market and been disappointed. With VEED I haven't experienced any issues with the videos I create on there. It has everything I need in one place such as the progress bar for my 1-minute clips, auto transcriptions for all my video content, and custom fonts for consistency in my visual branding.
Diana B - Social Media Strategist, Self Employed
Video editing tools that go beyond a watermark remover
You can do a lot more than just removing watermarks from your videos with VEED. VEED is a fully fledged online video editing studio that works with Windows, Mac, and on all mobile devices. You can use our online movie maker to create stunning videos - add text, color grading, add progress bars, and more. Resize your videos to fit any social media platform (YouTube, Instagram, etc.) with a single click. Making your content accessible everywhere.
Remove Watermark