Green Screen Editor
Edit out the background of your videos; use virtual backgrounds, add special effects, and more!
Edit your video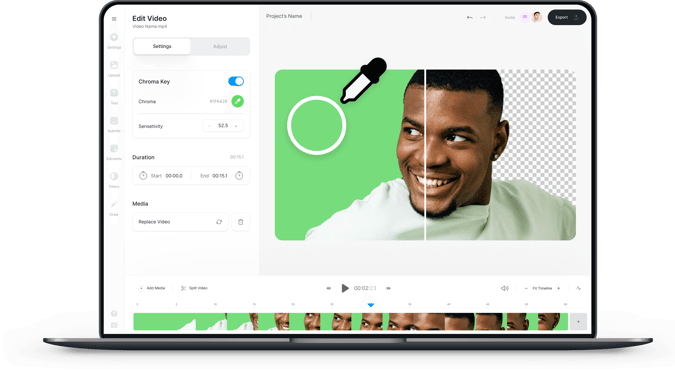 Take content creation to the next level with green screen overlays!
VEED's green screen video editor lets you edit out the background of your videos with just one click. When you shoot a video with a green screen background, you can remove the background, upload another image to replace it, and your video will appear as if you've filmed it with that image on the background! You can replace your background with a blank screen, a photo, or another video, and even add animated effects to it.
Plus, you will have access to a wide range of video editing tools to help you take content creation to the next level! Enhance your video by adjusting its settings; adjust the brightness, contrast, add vignettes, and other video effects. You can even remove background noise from your audio to make it sound crisp and professional using our one-click background noise remover. Our background noise remover is available to premium subscribers. Check our pricing page for more info.
How to use the green screen editor: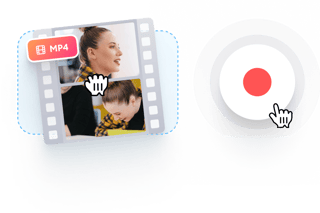 Upload or record
Upload your video or start recording using our online webcam recorder. Make sure that you're using a green screen background.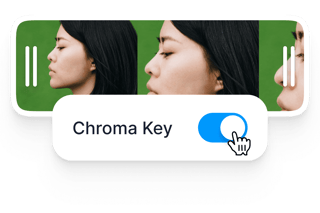 Remove and replace the green screen
Select the video on the timeline and toggle on the 'Chroma Key' option. Click on the eyedropper tool and click on the green screen. It will disappear, and you can replace it with another image, video, or a solid color.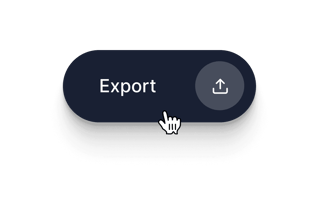 Export or keep creating!
Export your video in the highest quality. Or keep editing. You can add images, text, music, and more!
More green screen overlay ideas:
Create awesome videos with virtual backgrounds
Create stunning videos with creative virtual backgrounds. With VEED, you can edit out the green screen on your videos and replace it with an image of your choice. Our professional online video editor makes it quick and pain-free. Just upload the video you filmed with a green screen, click the Chroma Key, and click on the green screen to make it disappear! That's it. You can remove the background, add the background image you want to use, or even use another video as your background!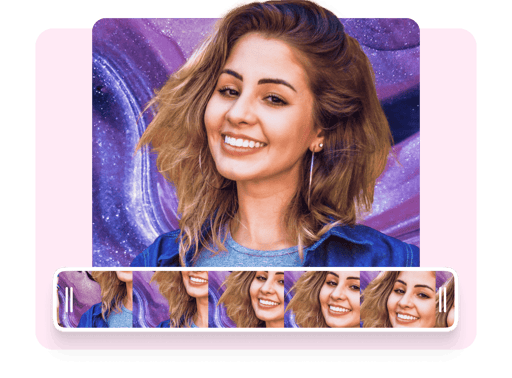 Green screen webcam recording integration
You can also use your webcam to record a video of yourself with a green screen background, right within VEED. You don't need to use a third-party app to do it. Use VEED's webcam recorder and maximize our full range of tools to make your video look even more amazing! No need to use expensive video editing software like Movavi Video Editor or Adobe Premiere Pro! With this integration, you can streamline your video content creation process for your social media pages.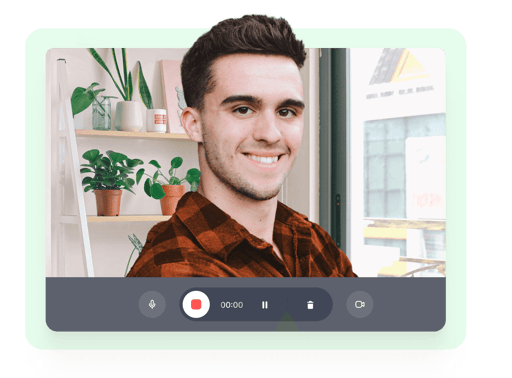 Create accessible training videos
Our green screen remover software is incredibly useful for creating training videos. You can edit out the green screen and replace it with slides or presentations. This way, it will appear as if you've recorded yourself in front of your training visuals. It will also be easier for you to record yourself using sign language, making your video accessible to a wider audience, including those who are deaf or hard-of-hearing. Even better, you can add subtitles and captions using our online auto subtitle tool!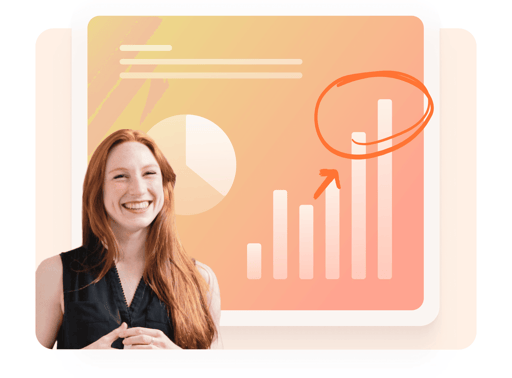 Frequently Asked Questions
What they say about VEED
Veed is a great piece of browser software with the best team I've ever seen. Veed allows for subtitling, editing, effect/text encoding, and many more advanced features that other editors just can't compete with. The free version is wonderful, but the Pro version is beyond perfect. Keep in mind that this a browser editor we're talking about and the level of quality that Veed allows is stunning and a complete game changer at worst.
Chris Y.
I love using VEED as the speech to subtitles transcription is the most accurate I've seen on the market. It has enabled me to edit my videos in just a few minutes and bring my video content to the next level
Laura Haleydt - Brand Marketing Manager, Carlsberg Importers
The Best & Most Easy to Use Simple Video Editing Software! I had tried tons of other online editors on the market and been disappointed. With VEED I haven't experienced any issues with the videos I create on there. It has everything I need in one place such as the progress bar for my 1-minute clips, auto transcriptions for all my video content, and custom fonts for consistency in my visual branding.
Diana B - Social Media Strategist, Self Employed
More than a green screen editor
VEED is so much more than a green screen editor. It's a powerful online professional video editing software that's packed with all the tools you need to streamline your content creation process! On top of all its editing features, you can save your videos as templates—perfect for creating multiple sales videos. Send the VEED link to your business partners when you need to send out video communication so they don't have to download the file. And so much more!
Edit your video