Voice Memo Transcription
Simplify voice memo transcription. Efficiently and accurately convert audio to text with VEED.
Transcribe Voice Memo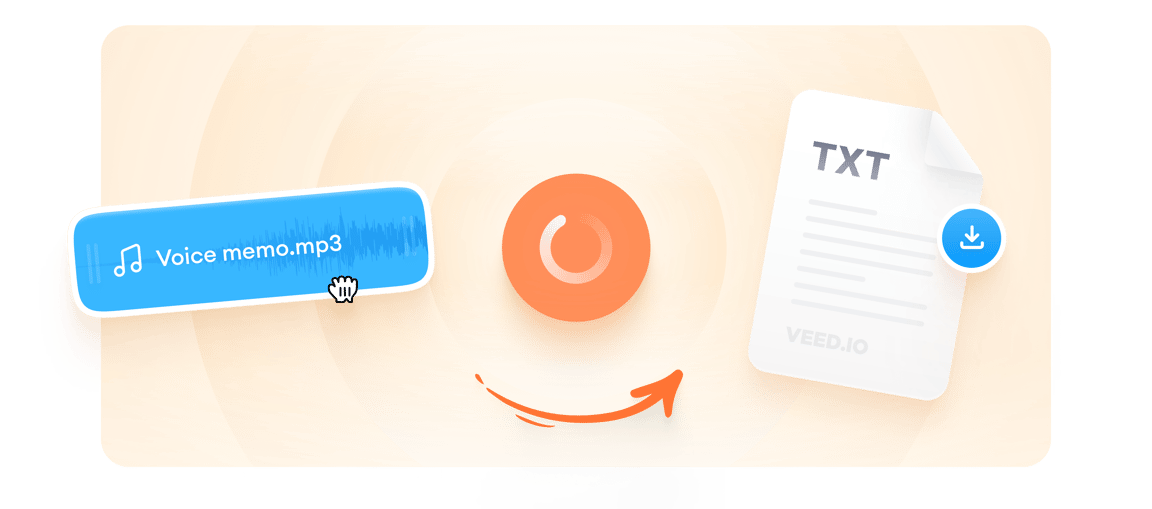 Accurate voice memo transcription for more efficient documentation
VEED's voice memo transcription tool empowers professionals and content creators to transcribe and extract valuable insights from their voice memos. Whether you're recording important meetings, interviews, or personal notes, our AI-powered converter converts your voice memos to accurate and readable text transcripts.
With VEED, you can easily upload your voice memo and within moments receive a text transcription that you can edit, search, and share. Say goodbye to manually transcribing your voice recordings and embrace a more efficient workflow with our voice memo transcription tool.
How to transcribe voice memos:
1

Upload an audio or video file

Click on 'Transcribe Audio' and select an audio file from your folders. You can also drag and drop your file into the box.
2

Transcribe audio

From the left menu, click on 'Subtitles' then select 'Auto Transcribe'. Select your preferred language and click 'Start'. VEED will automatically transcribe the audio. Make changes to the transcription if you wish.
3

Download the transcription

Without exiting the Subtitles page, click on 'Options' and click on the download icon under 'Download Subtitles'. Make sure to select the format that you prefer. You can download a TXT, VTT, or an SRT file.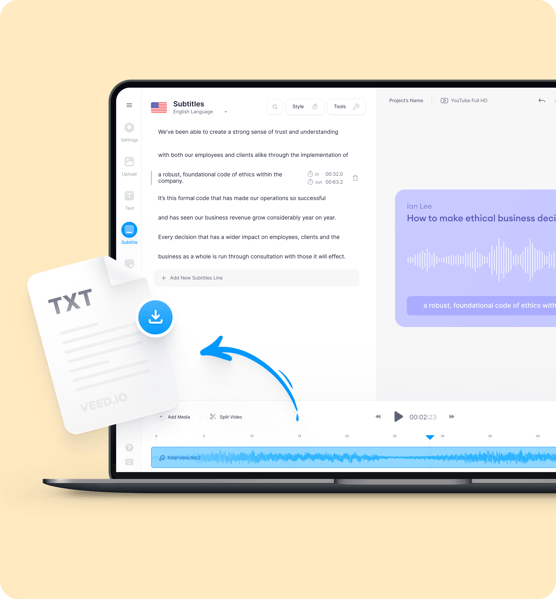 Learn more about our voice memo transcription tool:
Improve organization and accessibility
Transform your voice memos into text transcripts for improved accessibility, searchability, and organization. Easily locate and reference important details within your recordings and collaborate effectively with colleagues or clients. Our advanced voice memo transcription service employs cutting-edge technology to ensure every spoken word is accurately transcribed into text. Say goodbye to misunderstood phrases and garbled sentences – with our service, you can trust that your voice memos will be transformed into precise, error-free text documents that retain the original context and meaning.
Boost productivity and efficiency
Streamline your workflow by converting voice memos into editable text transcripts. Extract key points, create summaries, and repurpose the content for various purposes such as reports, articles, or social media posts. Experience the convenience of lightning-fast voice memo transcriptions. Our streamlined process allows you to effortlessly submit your voice memos and receive transcriptions in record time. No more tedious manual transcribing or waiting for hours on end. With our service, you'll receive your transcriptions promptly, freeing up your time for more important tasks.
Fast, private, and secure
Convert voice memos to text transcripts quickly and accurately, saving valuable time and effort. Protect your sensitive information with our secure and confidential voice memo transcription software. We understand the importance of safeguarding your personal and business-related content. Rest assured that your voice memos are handled with the utmost care, employing robust encryption and security protocols to ensure your data remains private and protected throughout the transcription process. Downloading transcripts is available to premium subscribers.
Frequently Asked Questions
What they say about VEED
Veed is a great piece of browser software with the best team I've ever seen. Veed allows for subtitling, editing, effect/text encoding, and many more advanced features that other editors just can't compete with. The free version is wonderful, but the Pro version is beyond perfect. Keep in mind that this a browser editor we're talking about and the level of quality that Veed allows is stunning and a complete game changer at worst.
Chris Y.
I love using VEED as the speech to subtitles transcription is the most accurate I've seen on the market. It has enabled me to edit my videos in just a few minutes and bring my video content to the next level
Laura Haleydt - Brand Marketing Manager, Carlsberg Importers
The Best & Most Easy to Use Simple Video Editing Software! I had tried tons of other online editors on the market and been disappointed. With VEED I haven't experienced any issues with the videos I create on there. It has everything I need in one place such as the progress bar for my 1-minute clips, auto transcriptions for all my video content, and custom fonts for consistency in my visual branding.
Diana B - Social Media Strategist, Self Employed
More than an voice memo transcription tool
VEED is a comprehensive and incredibly easy-to-use AI video editing software that allows you to do so much more than just transcribe audio files to text. Apart from transcribing an audio file, you can transcribe the original recording of a video. Add subtitles to your videos to make them more accessible for everyone. It also has all the video editing tools you need. All tools are accessible online so you don't need to install any software. Try our transcription and video editing app today!
Transcribe Voice Memo