VEED AI
Text to Music
Transform text into melodies with VEED's text-to-music generator.
Engage your audience with personalized soundtracks
Welcome to VEED's Text-to-music Generator, where the magic of music meets the power of words. Whether you're a professional or a content creator, our innovative online tool allows you to transform your text into mesmerizing melodies and add a captivating soundtrack to your videos.
With VEED's Text-to-music Generator, you can unleash your creativity like never before. Simply input your text, and our intelligent algorithm will compose a unique music loop based on the emotions and style you desire. It's a seamless way to elevate your content and engage your audience on a deeper level.
How to convert text to music with AI:
1

Open AI music generator

Access VEED's AI music generator from the tools menu. Select a vibe (Chill/Hip-hop/Electronic/Country/Dance).
2

Enter a text prompt

Enter a text prompt describing the sound you'd like to generate. This is an optional field and can be left empty. Click on 'generate track'.
3

Download or add to video

Press play to hear the track. Once satisfied, download the soundtrack. You can also open the track in VEED's editor to add it to videos.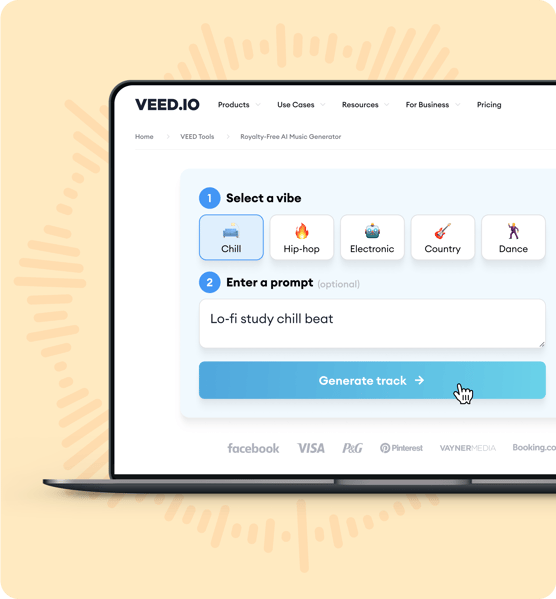 Learn more about our AI tools in this video:
Add life to your content
Add a touch of magic to your videos, presentations, or podcasts with custom-made music that perfectly complements your message. VEED's Text-to-music Generator allows you to create memorable soundtracks that captivate your audience and leave a lasting impression.
Personalized and unique
Every piece of text holds its own emotion and rhythm. With VEED's Text-to-music Generator, you can infuse your content with a personalized melody that aligns perfectly with your intended tone and style. Stand out from the crowd and create a one-of-a-kind experience.
Seamless integration
Make your videos come alive with tailor-made soundtracks that perfectly match the mood and atmosphere you desire. VEED's Text-to-music Generator seamlessly integrates with our AI video editing tools, making it easy to combine your text-inspired melodies with your visuals.
Frequently Asked Questions
What they say about VEED
Veed is a great piece of browser software with the best team I've ever seen. Veed allows for subtitling, editing, effect/text encoding, and many more advanced features that other editors just can't compete with. The free version is wonderful, but the Pro version is beyond perfect. Keep in mind that this a browser editor we're talking about and the level of quality that Veed allows is stunning and a complete game changer at worst.
Chris Y.
I love using VEED as the speech to subtitles transcription is the most accurate I've seen on the market. It has enabled me to edit my videos in just a few minutes and bring my video content to the next level
Laura Haleydt - Brand Marketing Manager, Carlsberg Importers
The Best & Most Easy to Use Simple Video Editing Software! I had tried tons of other online editors on the market and been disappointed. With VEED I haven't experienced any issues with the videos I create on there. It has everything I need in one place such as the progress bar for my 1-minute clips, auto transcriptions for all my video content, and custom fonts for consistency in my visual branding.
Diana B - Social Media Strategist, Self Employed
AI tools to make video editing easier!
VEED's magic doesn't just stop at AI music generation. It's a professional, all-in-one video editing suite that features all the tools you need to create amazing-looking videos—always in pro quality! Share stories only you can tell through videos that go beyond what's expected.
Add images, music and much more. All online; no software to download. Try it now, and start creating content that pushes your creative boundaries!
Create Music