Logo Reveal Video
Unveil your brand's story: Create striking logo reveal videos with ease!
Create Video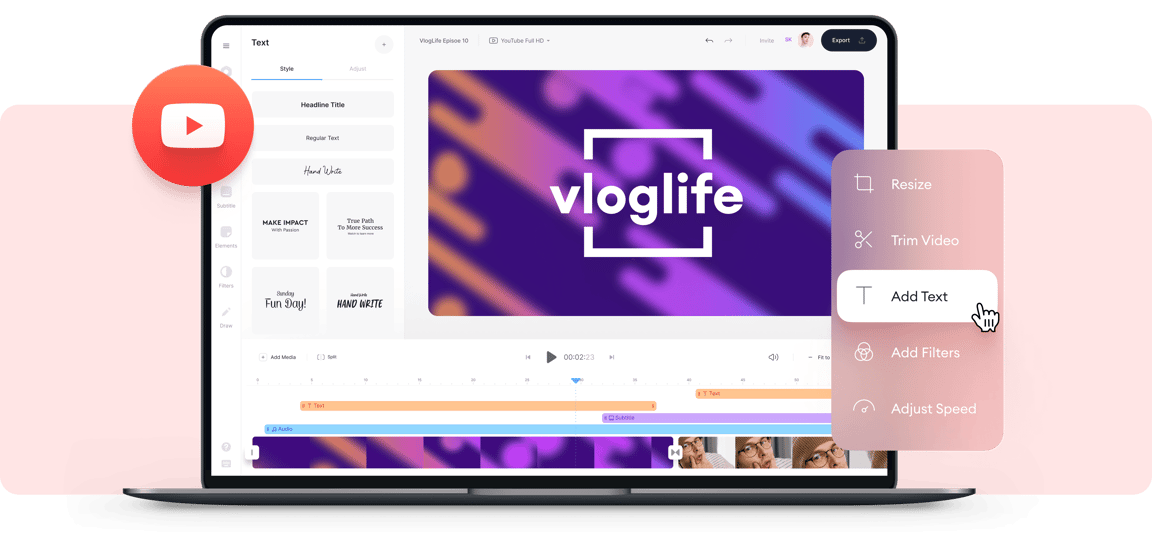 Create professional logo reveal videos
Make a lasting impact with your brand by unveiling it in style with VEED's Logo Reveal Video Maker. Our free online tool empowers professionals and content creators to effortlessly create stunning logo reveal videos that captivate their audience. Choose from a selection of customizable templates that reflect the essence of your brand, and leave a lasting impression with every reveal. No need for design expertise – with just a few clicks, your brand's identity comes to life! With VEED's premium subscription, you can easily update your brand kit and ensure that all your content complies with your brand style. Showcase your brand identity seamlessly in presentations, social media channels, websites, and more. VEED's Logo Reveal Video Maker offers effortless customization, enabling you to personalize colors, add as well as animate text, and add design elements.
How to create a logo reveal video:
1

Upload or record

Upload your video to VEED or record one using our webcam and screen recorder. You can also start with a blank canvas or select a template.
2

Create and personalize your logo reveal video

Create a logo reveal video by adding Elements of choice. Add text to put your company or brand name. You can even add an animation to both the text and the shape.
3

Export

When you're happy with your video, click Export. Download your video and share!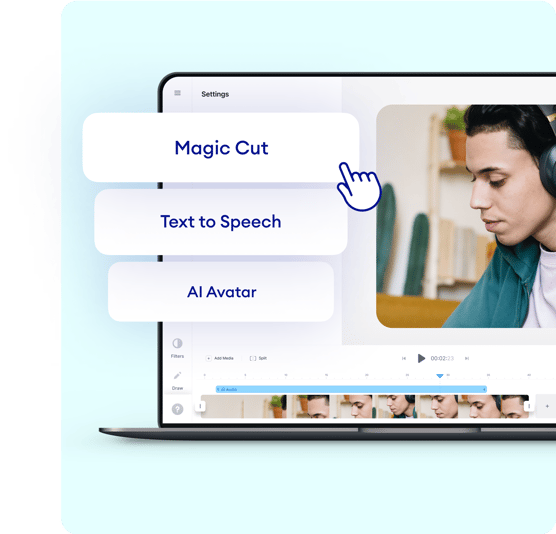 Walkthrough of our video editor and logo maker:
Enhance brand recognition with logo reveal
Command attention and enhance your brand recognition with captivating logo reveal videos. VEED's Logo Reveal Video Maker empowers you to create impressive animations that align with your brand identity, making a lasting impact on your audience.
Effortless customization & personalization
You don't need design expertise to create professional-grade logo reveal videos. VEED's user-friendly interface allows you to customize templates, adding your logo, colors, and text effortlessly. You can also add animations and remove background with ease.
Versatile branding across all social platforms
Utilize the logo reveal videos across various platforms and content, including websites, social media, presentations, and more. Engage your audience with creative brand representation that tells your unique story and builds a memorable brand identity.
Frequently Asked Questions
What they say about VEED
Veed is a great piece of browser software with the best team I've ever seen. Veed allows for subtitling, editing, effect/text encoding, and many more advanced features that other editors just can't compete with. The free version is wonderful, but the Pro version is beyond perfect. Keep in mind that this a browser editor we're talking about and the level of quality that Veed allows is stunning and a complete game changer at worst.
Chris Y.
I love using VEED as the speech to subtitles transcription is the most accurate I've seen on the market. It has enabled me to edit my videos in just a few minutes and bring my video content to the next level
Laura Haleydt - Brand Marketing Manager, Carlsberg Importers
The Best & Most Easy to Use Simple Video Editing Software! I had tried tons of other online editors on the market and been disappointed. With VEED I haven't experienced any issues with the videos I create on there. It has everything I need in one place such as the progress bar for my 1-minute clips, auto transcriptions for all my video content, and custom fonts for consistency in my visual branding.
Diana B - Social Media Strategist, Self Employed
Magic video creation and more!
VEED is much more than a logo reveal video maker. You can create AI-generated images in seconds and can use our built-in AI video editing tools to create videos from your photos. Now, you can use Magic Cut to let AI automatically highlight the best clips in your videos! You can even edit audio content. It's a complete professional video-editing software that lets you create stunning videos in just minutes. Explore our tools today and experience the magic of VEED's AI!
Create Video