Fortnite Montage Maker
Create your own fortnite montage video, free
Choose Video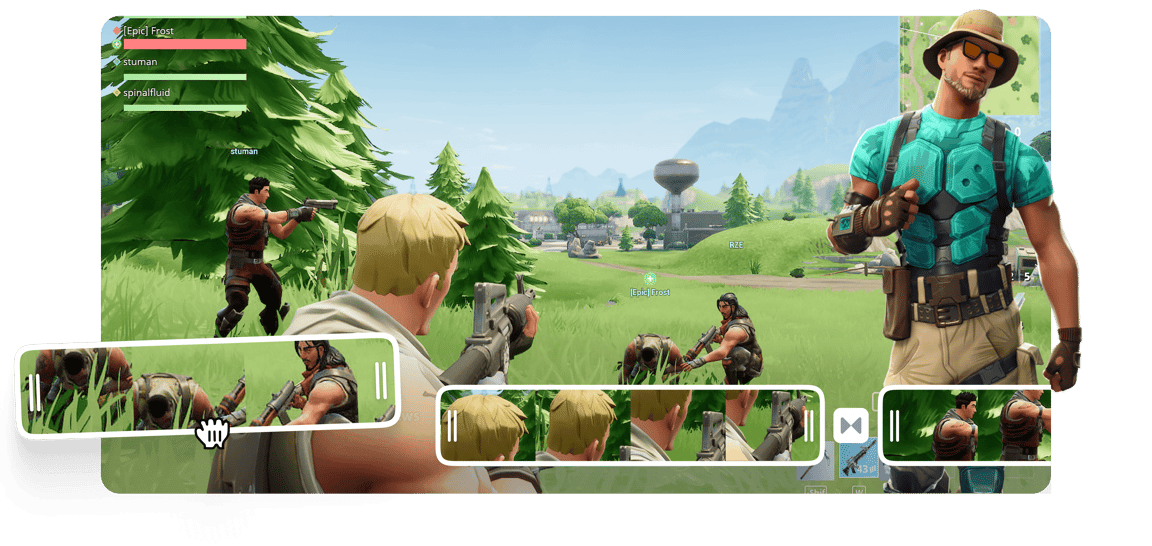 Fortnite Montage Maker, Online
Want to record your fortnite wins in a gripping montage? You're at the right place. Whether your gaming channel is on YouTube, TikTok, or a social media page, VEED will transform your videos and boost their likes. Add text, slow-motion effects, video filters, and other camera effects to your videos online, with VEED. Upload some catchy music to put in the background of your montage. To make life easier, VEED lets you resize videos to fit Instagram, TikTok, Facebook, and more, using our Present templates. Bring your gaming videos to life with VEED's fortnite montage maker.
Get Inspired
Click on a template to get started right away. Video creation in just a few clicks.
How to Create a Fortnite Montage:
1

Choose your video

Choose your video from your folders and upload it to VEED. You can drag and drop your files to the editor.
2

Edit montage

Edit, trim, merge and rearrange your montage clips. Add music, text, transitions and more. Click on any element from the left menu and start adding them to the timeline.
3

Export

When you're happy with your montage, just click on 'Export' and your video will be saved to your device.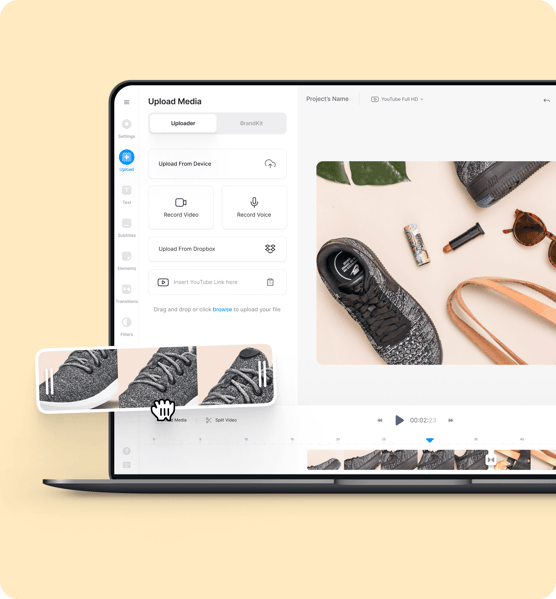 'Fortnite Montage Maker' Tutorial
Connect with your fortnite community
By adding a montage to your videos, you can connect more easily with your gaming community. Add details about your clan or your Twitter and Instagram feed, so everyone stays in the loop! It is super easy to do. Just click on the Text tool from the left menu and start typing. Customize the text with different fonts, colors, and heading styles.
Personalize your montage
With VEED, you have access to endless customization and personalization for your video montage. Add your gaming logo to promote your gaming channel, whether it's on YouTube, Facebook, Instagram, TikTok, or other social media sites. You can add sound effects to make your intros more exciting and so much more.
Add special effects
You can add special effects to grab your fans' attention and encourage them to watch your entire video. Engage your audience so they will keep coming back to your gaming channel. Speed up, slow down, rotate, filter, crop, trim, and annotate your videos to make them stand out from the rest. And you can do them all online, straight from your browser!
Frequently Asked Questions
What they say about VEED
Veed is a great piece of browser software with the best team I've ever seen. Veed allows for subtitling, editing, effect/text encoding, and many more advanced features that other editors just can't compete with. The free version is wonderful, but the Pro version is beyond perfect. Keep in mind that this a browser editor we're talking about and the level of quality that Veed allows is stunning and a complete game changer at worst.
Chris Y.
I love using VEED as the speech to subtitles transcription is the most accurate I've seen on the market. It has enabled me to edit my videos in just a few minutes and bring my video content to the next level
Laura Haleydt - Brand Marketing Manager, Carlsberg Importers
The Best & Most Easy to Use Simple Video Editing Software! I had tried tons of other online editors on the market and been disappointed. With VEED I haven't experienced any issues with the videos I create on there. It has everything I need in one place such as the progress bar for my 1-minute clips, auto transcriptions for all my video content, and custom fonts for consistency in my visual branding.
Diana B - Social Media Strategist, Self Employed
More than a fortnite montage maker
VEED is packed with incredible video editing tools that let you do so much more than just create intros for your gaming videos. If you want to edit the rest of your video, you don't need to look for another app. You can perfect your entire video right within VEED! You can also use VEED to create other fun types of videos. Create music videos for YouTube, instructional or gaming tutorial videos, screen recordings, and more.
Choose Video