News Intro Maker
Create breaking news intros online, free! No download required
Choose Video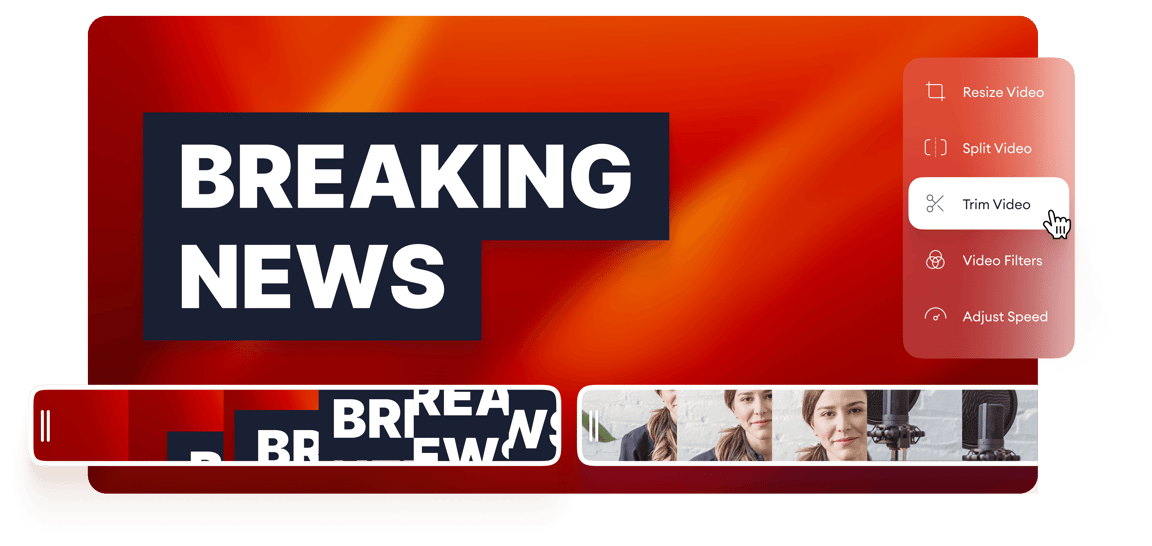 Online News Intro Maker
Breaking News feeds will not be complete without a good intro. If you really want to capture people's attention and encourage them to watch your news, you need to create a compelling intro that will give it the look and feel of a proper news channel. VEED's online news intro maker lets you create astounding news intros with just a few clicks! Add background music, text, and headlines to give your breaking news a professional feel. VEED features a wide range of video editing tools to make your news videos look more compelling.
Get Inspired
Click on a template to get started right away. Video creation in just a few clicks.
How to Create a News Intro:
1

Upload your video

Upload your news video clips to VEED. You can drag and drop them from your folder and into the editor
2

Create a news intro

Start adding breaking news elements to the beginning of your video, like headings, sub-headings, background music, and more. Just upload them to the editor and arrange them any way you want on the timeline.
3

Export

Download your video and share it on your news channel!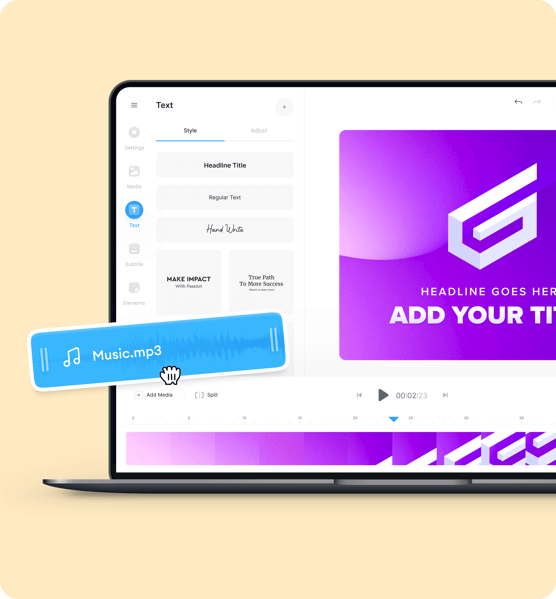 'News Intro Maker' Tutorial
Create the perfect news intro with music
If you ever watched breaking news on your TV or on YouTube, you may notice that they all have intro music to indicate that they are about to share something urgent and important. You can get breaking news music for your videos from royalty-free audio resource websites and upload them to VEED.
Add compelling headlines
Of course, breaking news will not be complete without proper news headlines. What is your news about? Add a headline by using VEED's Text tool. You can customize the font, color, and size of the text to match your content.
Auto-generate subtitles
Make your news more accessible to a wider audience by using VEED to automatically generate subtitles. Most likely, your news video already has a voice recording or a person speaking live on the video. VEED will recognize the speech from the video and can generate subtitles for you. Just click on the Subtitle tool from the left menu and click Auto Transcribe.
Frequently Asked Questions
What they say about VEED
Veed is a great piece of browser software with the best team I've ever seen. Veed allows for subtitling, editing, effect/text encoding, and many more advanced features that other editors just can't compete with. The free version is wonderful, but the Pro version is beyond perfect. Keep in mind that this a browser editor we're talking about and the level of quality that Veed allows is stunning and a complete game changer at worst.
Chris Y.
I love using VEED as the speech to subtitles transcription is the most accurate I've seen on the market. It has enabled me to edit my videos in just a few minutes and bring my video content to the next level
Laura Haleydt - Brand Marketing Manager, Carlsberg Importers
The Best & Most Easy to Use Simple Video Editing Software! I had tried tons of other online editors on the market and been disappointed. With VEED I haven't experienced any issues with the videos I create on there. It has everything I need in one place such as the progress bar for my 1-minute clips, auto transcriptions for all my video content, and custom fonts for consistency in my visual branding.
Diana B - Social Media Strategist, Self Employed
More than a news intro maker
With VEED, you no longer need to use multiple apps to create the perfect news video. VEED lets you edit, compress, and convert your videos to multiple formats so you can easily share them with the world. Make your video files smaller so you can upload them hassle-free on social media, YouTube, and other video-sharing platforms. Convert them to more widely supported formats so you can play them from any media player. Video editing does not have to be stressful. Use VEED and have fun creating professional-looking videos!
Choose Video