Business Explainer Video
Simplify your message with compelling business explainer videos!
Create Video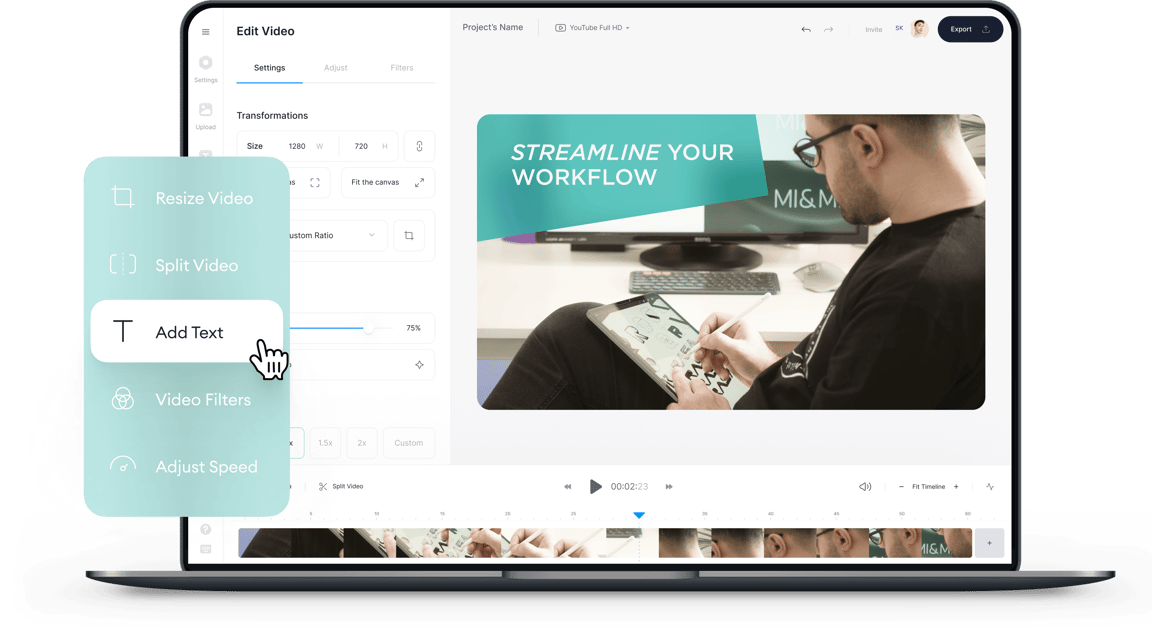 Engage and educate with business explainer videos
Elevate your business communication with VEED's powerful explainer video maker. Whether you're introducing your brand, explaining complex concepts, or promoting products, our intuitive platform empowers you to create professional-grade business explainer videos in minutes. No design or editing experience required – just choose from our library of templates, add your content, customize as needed, and voila!
Make business explainer videos with talking avatars using VEED's AI avatar software. Personalize your own custom avatar using VEED's artificial intelligence technology. Select from our image presets to create your avatar and animate it. You can also add a voice to your avatar using our text-to-speech software and use it on your video content. Don't know what to say in your video? You can start with our AI video script generator!
How to create a business explainer video:
1

Upload or record

Upload your video to VEED or start recording using our online webcam recorder. You can also drag and drop your video to the editor.
2

Customize

Start customizing your explainer video. You can use the brand kit to add logos, fonts, and more. You can even add Avatars or a script with the help of AI. Add subtitles, captions and more to complete the video.
3

Download and share

When you're happy with your edits, click on "Export". Download your video and share!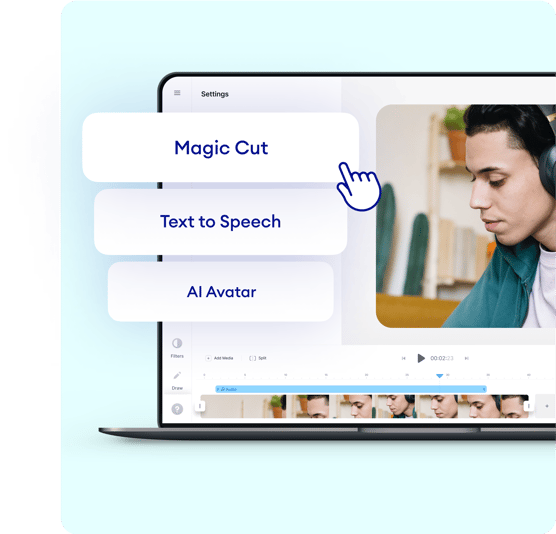 Walkthrough of VEED's business explainer video maker:
Effective business & brand communication
Craft compelling narratives and deliver your business message in a concise and engaging manner. Studies show that 72% of customers prefer explainer videos to learn about products or services. With VEED's explainer video maker, you can effectively communicate your value proposition, boost brand awareness, and drive conversions. Showcase your products, services, or processes with clarity and creativity, leaving a lasting impact on your audience.
Boost audience engagement & retention
Captivate your audience with visually appealing and interactive explainer videos. Adding video to your website can increase the time spent by visitors, making them 88% more likely to stay and learn about your business. With VEED, you can create captivating videos that leave a lasting impression on your audience. Engage viewers with captivating animations, dynamic storytelling, and clear call-to-action messages, encouraging them to take the desired actions.
Enhance SEO and website traffic easily
Explainer videos are an excellent tool to improve your website's search engine optimization (SEO). Websites with video are 53 times more likely to rank on the first page of Google search results. By incorporating explainer videos on your landing pages, blogs, and product pages, you can boost your website's search visibility and attract more organic traffic. You may also Increase your social media reach and audience engagement by sharing informative videos.
Frequently Asked Questions
What they say about VEED
Veed is a great piece of browser software with the best team I've ever seen. Veed allows for subtitling, editing, effect/text encoding, and many more advanced features that other editors just can't compete with. The free version is wonderful, but the Pro version is beyond perfect. Keep in mind that this a browser editor we're talking about and the level of quality that Veed allows is stunning and a complete game changer at worst.
Chris Y.
I love using VEED as the speech to subtitles transcription is the most accurate I've seen on the market. It has enabled me to edit my videos in just a few minutes and bring my video content to the next level
Laura Haleydt - Brand Marketing Manager, Carlsberg Importers
The Best & Most Easy to Use Simple Video Editing Software! I had tried tons of other online editors on the market and been disappointed. With VEED I haven't experienced any issues with the videos I create on there. It has everything I need in one place such as the progress bar for my 1-minute clips, auto transcriptions for all my video content, and custom fonts for consistency in my visual branding.
Diana B - Social Media Strategist, Self Employed
More than a business explainer video maker
Business explainer videos using animated AI avatars are just the beginning. VEED helps you become extra creative in your video creation process. It lets you do so much more than just create AI business explainer videos using custom avatars, add AI voiceovers to your videos, or generate scripts for you. It's an all-in-one professional video-editing software that lets you create engaging videos in just minutes—letting you streamline your content creation!
Create Video