Creatore di Video di Marketing
Crea video di marketing accattivanti per la tua attività online
Scegli Video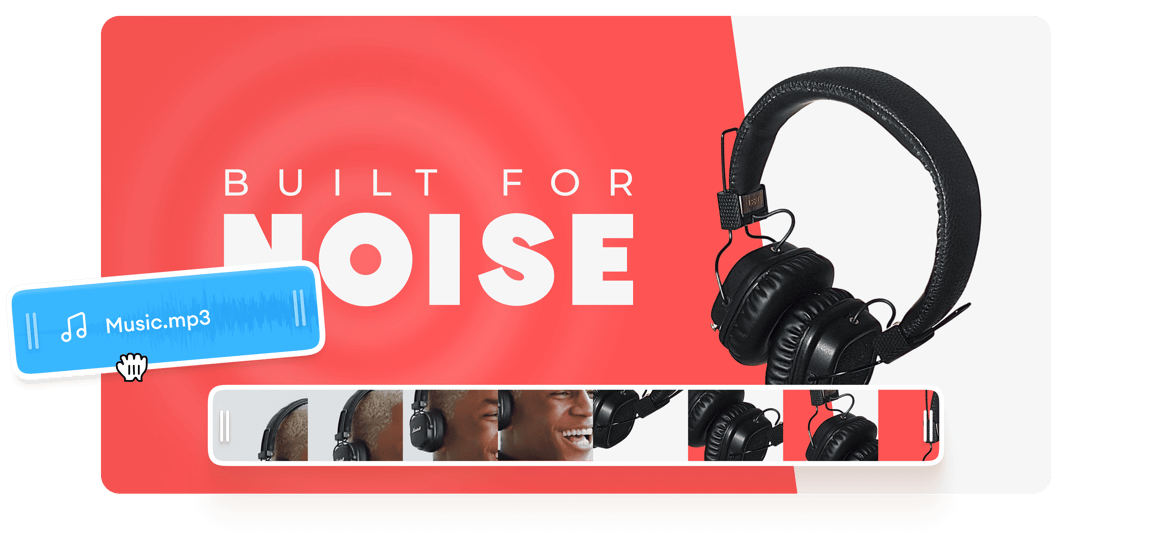 Video di marketing coinvolgenti ed efficaci
Ora è facile creare video di marketing efficaci e coinvolgenti per la tua attività. Con il software di editing video gratuito di VEED, puoi creare video per le tue campagne di marketing in pochi minuti. Non è più necessario assumere editor video professionisti. Puoi aggiungere testo, immagini, musica e altro in pochi clic. Fai risaltare i tuoi video di marketing e genera ritorni con VEED!
Come creare un video di marketing:
1

Carica il tuo video o scegli tra i video stock

Carica il tuo video su VEED o scegli tra i nostri video stock disponibili. Basta trascinare e rilasciare i file nell'editor.
2

Modifica

Puoi aggiungere immagini sui tuoi prodotti, servizi o azienda. Aggiungi testo, musica, didascalie e altro ancora.
3

Esporta

Esporta il tuo video in qualsiasi formato e condividi!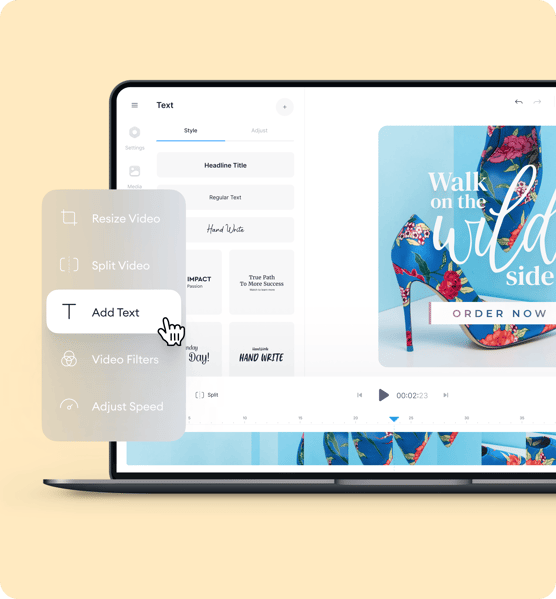 Tutorial "Creatore di video di marketing".
Condividi il tuo video di marketing sui social media
Puoi condividere il tuo video di marketing o farlo esplodere sui siti di social media. Con VEED puoi ritagliare, ruotare e ridimensionare i tuoi video per adattarli a qualsiasi piattaforma di social media. Crea il video perfetto per le tue campagne su Facebook, Instagram, Twitter, TikTok, YouTube e altre piattaforme di condivisione video. Scegli la tua piattaforma preferita dalle Impostazioni. VEED ottimizzerà automaticamente il tuo video.
Personalizza i video stock
Non hai tempo per girare un video di marketing o un video aziendale? Con VEED sei al coperto! Puoi scegliere tra uno qualsiasi dei nostri video stock che puoi personalizzare per crearne uno tuo. Sostituisci le immagini con un clic, aggiungi testo, messaggio, musica e altro ancora. Tutto quello che devi fare è cliccare su un elemento e iniziare a caricare i tuoi file.
Aggiungi transizioni
VEED offre anche straordinari effetti di transizione per rendere il tuo video di marketing più accattivante ed efficace. Puoi dividere il tuo video in diverse clip e aggiungere effetti di transizione in mezzo. Questo ti permetterà di dividere il tuo video in diverse linee temporali, per aiutarti a raccontare la tua storia. Tutto ciò di cui hai bisogno, direttamente su VEED!
Cosa si dice su VEED
Veed is a great piece of browser software with the best team I've ever seen. Veed allows for subtitling, editing, effect/text encoding, and many more advanced features that other editors just can't compete with. The free version is wonderful, but the Pro version is beyond perfect. Keep in mind that this a browser editor we're talking about and the level of quality that Veed allows is stunning and a complete game changer at worst.
Chris Y.
I love using VEED as the speech to subtitles transcription is the most accurate I've seen on the market. It has enabled me to edit my videos in just a few minutes and bring my video content to the next level
Laura Haleydt - Brand Marketing Manager, Carlsberg Importers
The Best & Most Easy to Use Simple Video Editing Software! I had tried tons of other online editors on the market and been disappointed. With VEED I haven't experienced any issues with the videos I create on there. It has everything I need in one place such as the progress bar for my 1-minute clips, auto transcriptions for all my video content, and custom fonts for consistency in my visual branding.
Diana B - Social Media Strategist, Self Employed
Molto più di un creatore di video di marketing
Qualcuno ha detto "CARATTERISTICHE"? Ritaglia, ruota, ridimensiona, applica filtri, aggiungi sottotitoli, traduci sottotitoli (!), aggiungi effetti sonori, disegna sui tuoi video e molto altro! VEED ha tutti gli strumenti di editing video che ti vengono in mente. E anche qualcuno in più! Sei al coperto, indipendentemente dal tipo di video che desideri realizzare. Dai un'occhiata alle nostre altre pagine qui sotto, per vedere cosa VEED può fare per te.
Scegli Video