Online Teaching Software
The best online education software designed for tutors and teachers. Create a smooth eLearning experience
Create Classroom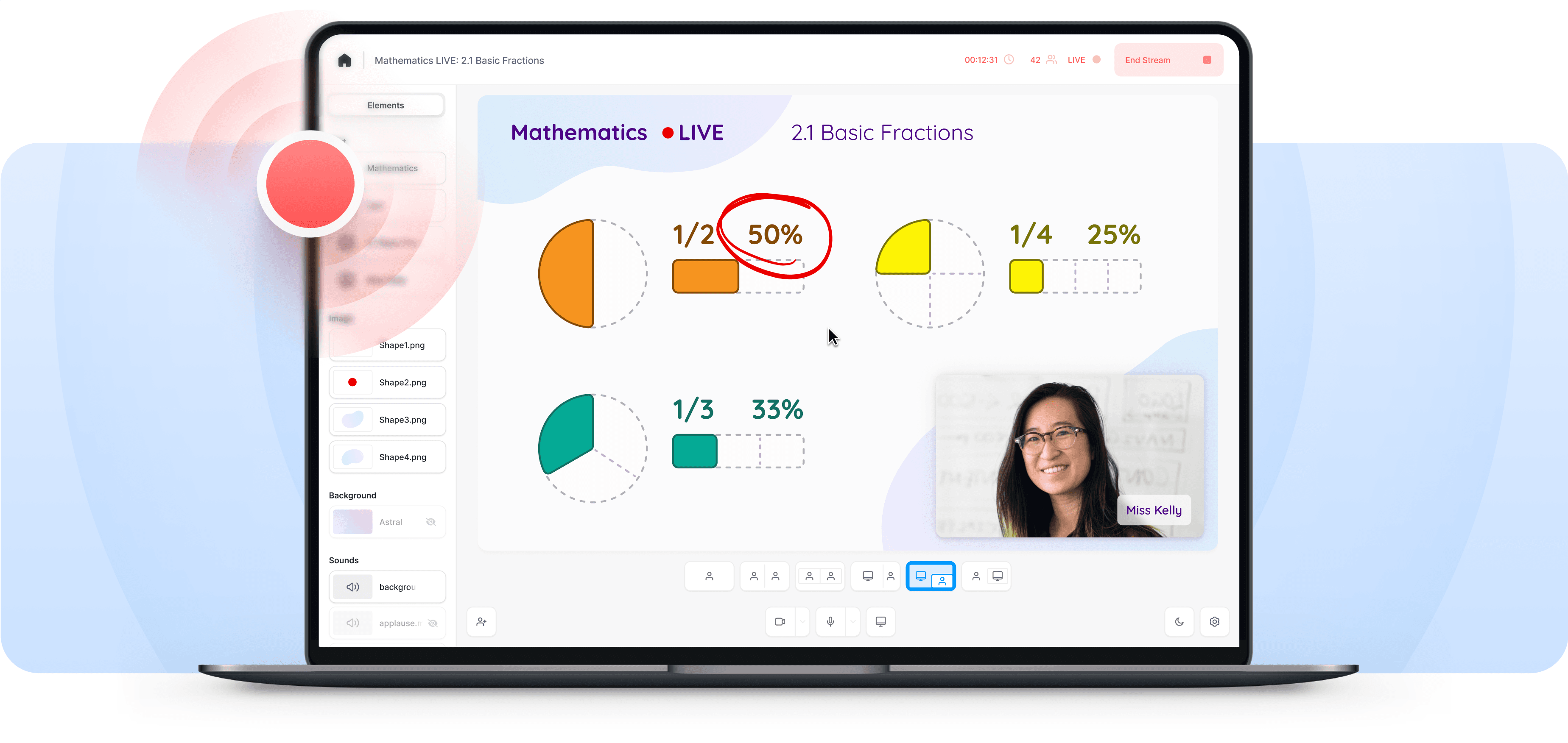 The best software for online education. Record, stream, and more!
Conduct online courses from your browser using VEED's live streaming and recording software. Stream interactive and engaging sessions for your students. VEED offers a complete suite of tools to help you enrich your class' distance learning. This is perfect for online tutoring and live classes. It's time to move away from apps like Microsoft Teams. Secure, fast, and straightforward. Both educators and participants can interact with each other via chat, and download a copy of the transcript. Record and stream your pre-recorded video or stream it live to multiple platforms!
How to Create an Online Classroom
1

Enter Studio

Click on the "Create Classroom" button, select your desired streaming platforms (Facebook, YouTube, Twitch, etc.), and start streaming!
2

Customize

Select your video layout. You can add an overlay to your video, choose a theme or background, add your logo, and more.
3

Stream Class

When you're happy with your setup, click on the Go Live button in the upper right corner of your screen. Connect to your selected social media or video-sharing platform/s, and click Go Live again!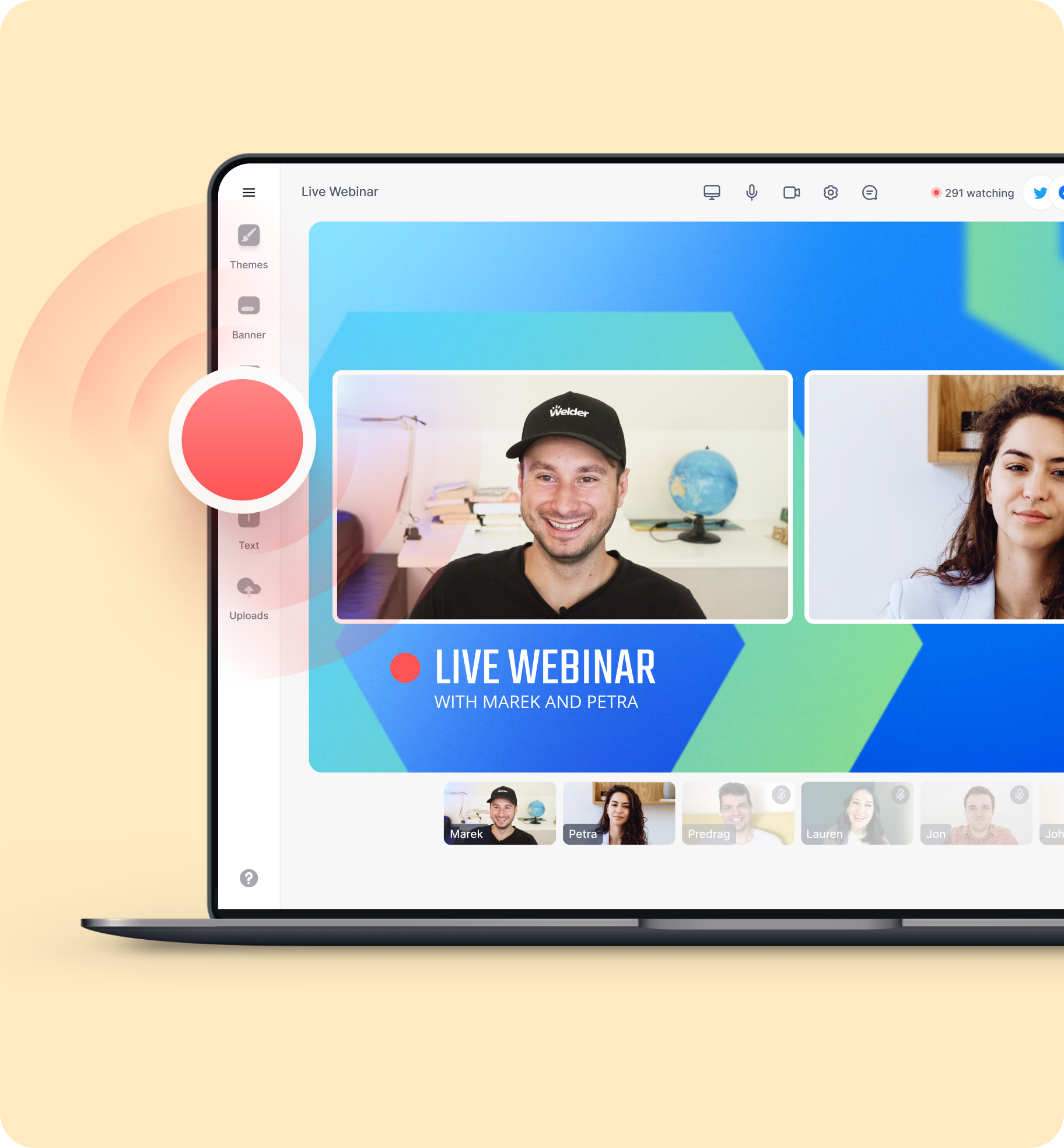 'Online Teaching Software' Tutorial
The best and smoothest software for online teaching
Our online teaching software makes online learning smooth for everyone involved—students, clients, and educators. You don't need to waste precious time setting it up, unlike other streaming services. Set up your virtual training room in a breeze. Use our screen sharing tool for your slides and other visual aids, and invite guests simply by sending them your live stream's link.
Multi-streaming capabilities and other integrations
With VEED's integrations and multi-streaming capabilities, you can stream your content on different video-sharing and social media platforms at once. Let others join your sessions from different locations and apps simultaneously. Save time from setting up separate streams. Just toggle the blue button once you press Go Live, enter your stream key, and click Go Live. You can find more information about finding your Stream Key for different social media platforms in the FAQs.
Auto generate subtitles, download transcripts, and translate!
Make your online learning materials accessible by generating subtitles for your recording. Your stream will automatically be recorded so you can save it for later use, or send it to others who were not able to join your online learning session. You can edit your video after your online class to add relevant elements like images, text, and annotations. Translate the transcript to different languages (available to premium subscribers).
Frequently Asked Questions
What they say about VEED
Veed is a great piece of browser software with the best team I've ever seen. Veed allows for subtitling, editing, effect/text encoding, and many more advanced features that other editors just can't compete with. The free version is wonderful, but the Pro version is beyond perfect. Keep in mind that this a browser editor we're talking about and the level of quality that Veed allows is stunning and a complete game changer at worst.
Chris Y.
I love using VEED as the speech to subtitles transcription is the most accurate I've seen on the market. It has enabled me to edit my videos in just a few minutes and bring my video content to the next level
Laura Haleydt - Brand Marketing Manager, Carlsberg Importers
The Best & Most Easy to Use Simple Video Editing Software! I had tried tons of other online editors on the market and been disappointed. With VEED I haven't experienced any issues with the videos I create on there. It has everything I need in one place such as the progress bar for my 1-minute clips, auto transcriptions for all my video content, and custom fonts for consistency in my visual branding.
Diana B - Social Media Strategist, Self Employed
More than an online teaching software
VEED is so much more than an online teaching software! It gives you access to a full suite of pro video editing tools, which will help you enhance your online learning's recording. Resize your video so you can easily post it on any video-sharing or social media platform, adjust the lighting, clean audio, and more! Add subtitles and translate them to different languages. Try VEED now and start enhancing the eLearning experience for your class!
Create Classroom