Instantly slow down your video's speed with precision
Slow down your video's speed with precision instantly using VEED's professional video editor. Create slow-motion videos and time-lapse videos in just a few clicks. Controlling the speed of your video lets you create a new effect. Create a dramatic effect with slow motion. Enhance your storytelling style and captivate your audience with seamless speed adjustments. Plus, you can add background music to match the style!
How to make a video slower:
1

Upload, record, or start with a template

Upload your video to VEED or record one using our free webcam recorder. You can also start with our customizable video templates.
2

Set a speed

Select your video on the editor, then set a speed. You can choose from 0.5x, 1x, 1.5x, and so on. Or click on 'Custom' and enter a speed.
3

Export or keep creating!

Export your video or keep exploring our full range of video editing tools. You can cut, trim, and rearrange your video clips on the timeline. Add captions, music, and more!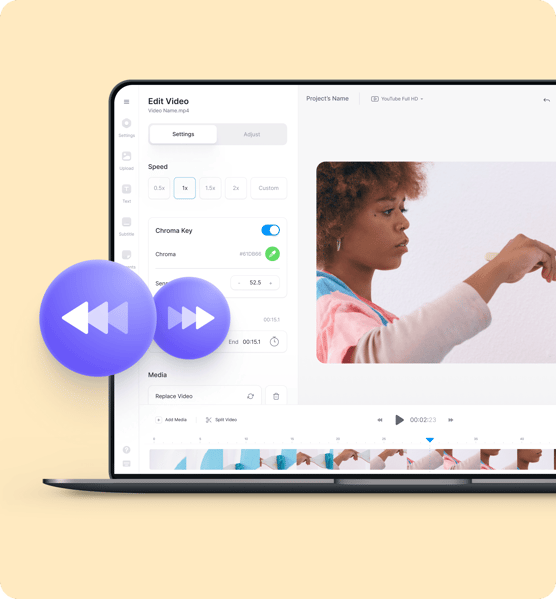 Watch this to learn more about our video speed editor:
Make special moments magical by slowing down your video
Make special moments even more magical by slowing down your video's speed. By adding a slow-motion effect, you can make scenes appear more dramatic and engaging. VEED's video speed controller lets you do just that in one click, and you can watch the effect in real time. You can upload multiple video files and change the speed of select clips.
Slower video playback for cinematic brilliance
VEED lets you slow down your video's playback to create masterful cinematic effects. But our slo-mo tool is only one of the brilliant tools featured in our online video editing software. Our intuitive timeline, snap-to-grid, and drag-and-drop interface easily beat complicated and expensive apps out there like Da Vinci Resolve and Adobe Premiere Pro. Rearrange your video clips in a cinch, add captions, video effects, and more.
Create masterfully crafted content from your browser
Transform ordinary moments into extraordinary stories with VEED. Whether you're a content creator, filmmaker, or simply a video enthusiast, our intuitive tool empowers you to manipulate speed effortlessly. Tell stories through videos in different styles, enhance visual impact, and create a viewing experience that leaves an indelible mark on your audience.
Frequently Asked Questions
What they say about VEED
Veed is a great piece of browser software with the best team I've ever seen. Veed allows for subtitling, editing, effect/text encoding, and many more advanced features that other editors just can't compete with. The free version is wonderful, but the Pro version is beyond perfect. Keep in mind that this a browser editor we're talking about and the level of quality that Veed allows is stunning and a complete game changer at worst.
Chris Y.
I love using VEED as the speech to subtitles transcription is the most accurate I've seen on the market. It has enabled me to edit my videos in just a few minutes and bring my video content to the next level
Laura Haleydt - Brand Marketing Manager, Carlsberg Importers
The Best & Most Easy to Use Simple Video Editing Software! I had tried tons of other online editors on the market and been disappointed. With VEED I haven't experienced any issues with the videos I create on there. It has everything I need in one place such as the progress bar for my 1-minute clips, auto transcriptions for all my video content, and custom fonts for consistency in my visual branding.
Diana B - Social Media Strategist, Self Employed
More than a video speed changer
VEED is so much more than just a video speed changer. You can do so much more than just slow your video's playback down. It's an all-in-one professional software that lets you create amazing-looking videos for all your channels. Grow your following by establishing your brand online using our brand kit (available to premium subscribers)—add your logo, brand colors, fonts, and more! Change your video's playback speed, add music, and use special effects without sacrificing the quality of your videos.
Slow down your video's speed