Looping MP4
Capture your audience on social media with looping GIF and MP4 videos.
Create Loop Video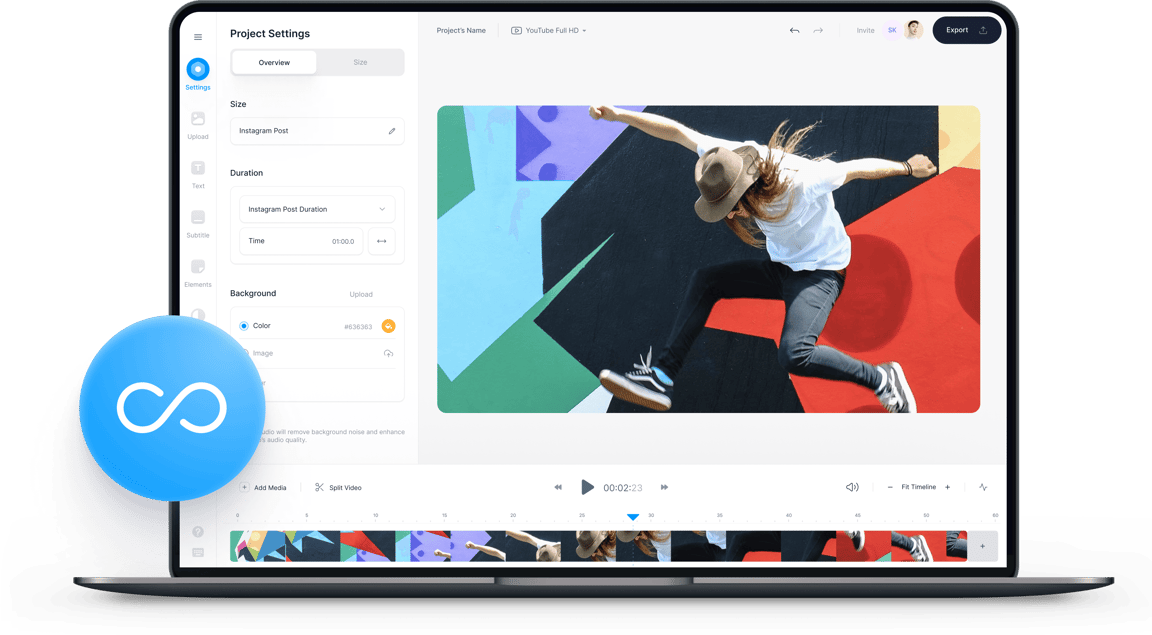 Repurpose content by looping MP4 videos for Reels and YT Shorts
Unleash your creativity and captivate your audience with mesmerizing looping MP4 videos. Our user-friendly online video editor lets you effortlessly transform MP4 videos into seamless looping GIFs, perfect for social media, website banners, and eye-catching presentations. Enhance your content marketing, boost your brand's visibility, and keep viewers engaged with compelling loops that play on repeat.
From short clips to longer videos, our tool handles it all, making looping MP4 videos accessible to professionals and content creators of all levels. Join thousands of satisfied users who have elevated their video content with VEED's looping MP4 video maker. Start looping now!
How to create a looping MP4 video:
1

Upload a file

Select a video file from your folder. You can also drag and drop your file into the box.
2

Loop your video

Create a loop by adding the same video or image. Just click on the plus (+) button on the bottom-right of the editor and select the same file.
3

Export as GIF/MP4

Click on 'Export'. Make sure to select 'Export as MP4 from the options. Your infinite looping MP4 video will be downloaded to your device. You can also download in other file formats like GIF.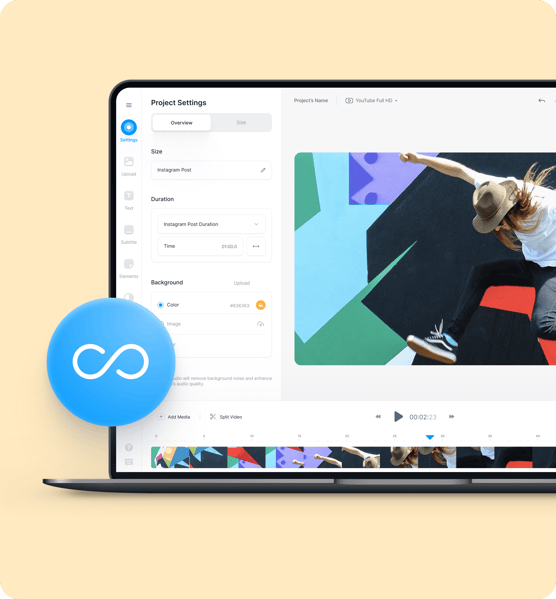 Walkthrough of VEED's MP4 video looping tool:
Endless engagement with looping MP4 videos
Convert your regular MP4 videos into captivating loops that play on repeat. Looping videos command attention, keeping viewers hooked and engaged with your content. Whether you're promoting products, sharing announcements, or telling stories, looping MP4 videos deliver a seamless and visually enticing experience, leaving a lasting impact on your audience.
Improve audience engagement & retention
Captivate your audience with visually appealing and interactive looping MP4 videos. Adding video to your website can increase the time spent by visitors, making them 88% more likely to stay and learn about your business. With VEED, you can create captivating videos that leave a lasting impression on your audience. Engage viewers with captivating looping MP4 videos.
Boost content reach and visibility with loops
Looping MP4 videos are shareable, interactive, and highly effective in increasing your content's reach and visibility. Capture attention-grabbing moments, highlight key messages, and showcase your brand's creativity with looping GIFs that are easily shareable and promote viral engagement. Maximize your content's impact and watch your audience grow with looping MP4 videos.
Frequently Asked Questions
What they say about VEED
Veed is a great piece of browser software with the best team I've ever seen. Veed allows for subtitling, editing, effect/text encoding, and many more advanced features that other editors just can't compete with. The free version is wonderful, but the Pro version is beyond perfect. Keep in mind that this a browser editor we're talking about and the level of quality that Veed allows is stunning and a complete game changer at worst.
Chris Y.
I love using VEED as the speech to subtitles transcription is the most accurate I've seen on the market. It has enabled me to edit my videos in just a few minutes and bring my video content to the next level
Laura Haleydt - Brand Marketing Manager, Carlsberg Importers
The Best & Most Easy to Use Simple Video Editing Software! I had tried tons of other online editors on the market and been disappointed. With VEED I haven't experienced any issues with the videos I create on there. It has everything I need in one place such as the progress bar for my 1-minute clips, auto transcriptions for all my video content, and custom fonts for consistency in my visual branding.
Diana B - Social Media Strategist, Self Employed
Create looping MP4 videos for social media and more!
VEED lets you do so much more than just loop your MP4 videos. Our online GIF maker also works as a video editor so you can edit your videos with AI tools. Rotate, resize, and crop your videos. You can also add text, images, and drawings over them. Try our video editor and create the most awesome content today!
Create Loop Video