Creating Video Tutorials
Make creating video tutorials effortless with VEED's screen recorder and online video editor.
Create Tutorial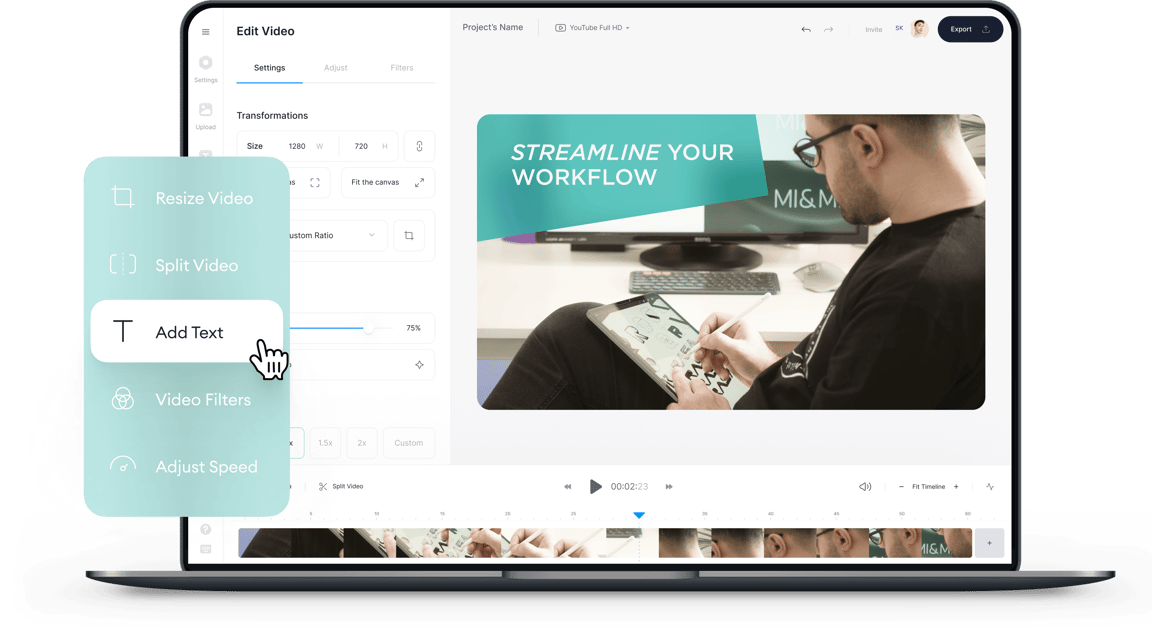 Easily create engaging tutorial videos with VEED's tutorial maker
Attract, educate, and inspire your audience with VEED's all-in-one solution for creating video tutorials. Our free online screen recorder and AI video editor provide the tools you need to craft engaging and professional tutorial videos. Effortlessly record your screen and add voice overs to deliver impactful tutorials. With the unique eye contact correction feature, maintain direct engagement with your viewers, enhancing the authenticity of your content.
Whether you're a professional educator, content creator, or business professional, VEED's Tutorial Maker ensures that your tutorials are clear, concise, and visually captivating. Creating video tutorials has never been easier. You can even add subtitles to improve accessibility of your content.
How to create video tutorials with VEED:
1

Upload pictures and/or videos, or choose a template

Begin by uploading pictures and video clips on VEED. You can add as many as you want and even rearrange in the order you prefer. You can alternatively record your screen or videos using the webcam. Lastly, you may use a template from our library.
2

Add transitions, elements and animations

With VEED, you can add transition effects to create a tutorial video. You can add transitions to give it a smooth flow. Next, go to 'Elements' in the left panel to add stickers, GIFs, bars and more. You can also add text or subtitles. With VEED, you may turn text into audio as well. Lastly, add animations to the different elements and make them more engaging.
3

Edit, correct eye movements, and export

Export your video or click on the Magic icon. This lets you use our AI eye contact tool, remove your video's background, or use the Magic Cut feature—let our AI splice your clips and create the final video. You may even click Edit and explore our full range of video editing tools. Once you're done, click on export and then download the video.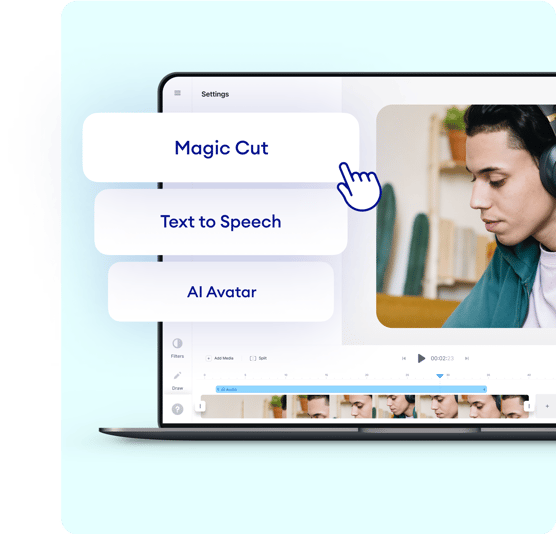 Watch this video to learn more about creating video tutorials:
Increase sales with tutorials
Incorporating videos into your landing pages can significantly boost your conversion rates, with potential increases of up to 80%. Moreover, social media advertisements that incorporate videos tend to outperform those that solely utilize images.
Eye contact for engagement
Establish a genuine connection with your audience through VEED's eye contact correction. Maintain eye contact with your viewers, fostering trust and enhancing the experience. This also helps in boosting brand authenticity and helps your audience connect.
Professional video editing
Elevate your tutorials with VEED's AI-powered video editor. Trim, cut, add text, and enhance your videos to perfection. You can even generate a script for your video. Moreover, you can add CTAs to boost conversion compared to other videos.
Frequently Asked Questions
What they say about VEED
Veed is a great piece of browser software with the best team I've ever seen. Veed allows for subtitling, editing, effect/text encoding, and many more advanced features that other editors just can't compete with. The free version is wonderful, but the Pro version is beyond perfect. Keep in mind that this a browser editor we're talking about and the level of quality that Veed allows is stunning and a complete game changer at worst.
Chris Y.
I love using VEED as the speech to subtitles transcription is the most accurate I've seen on the market. It has enabled me to edit my videos in just a few minutes and bring my video content to the next level
Laura Haleydt - Brand Marketing Manager, Carlsberg Importers
The Best & Most Easy to Use Simple Video Editing Software! I had tried tons of other online editors on the market and been disappointed. With VEED I haven't experienced any issues with the videos I create on there. It has everything I need in one place such as the progress bar for my 1-minute clips, auto transcriptions for all my video content, and custom fonts for consistency in my visual branding.
Diana B - Social Media Strategist, Self Employed
Do more than creating video tutorials
VEED is a comprehensive and incredibly easy-to-use AI video editing software that allows you to do so much more than just recording audio. Add subtitles to your videos to make them more accessible for everyone. It also has all the video editing tools you need. All tools are accessible online so you don't need to install any software. Try our transcription and video editing app today!
Create Tutorial